Start page


PC modifications mainpage



Homemade watercooling, tests results
---
CPU test result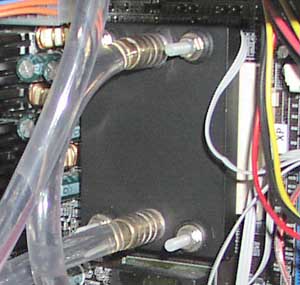 Before: CPU motherboard sensor = 45C and 53C case open and closed,
With watercooling the CPU motherboard sensor = 35C with water temp @ 23C
The CPU waterblock is 24C
See constructions details
---
Motherboard Chipset test result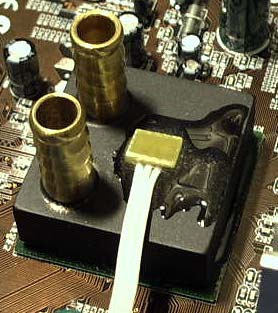 The first test was made on the chipset watercooling block with temperature sensor.
After mounting of this water block and temp sensor, I have measured it's temperatures:
With no water hoses connected at all: 35-37C open case
With 1l/m flow of 23C water: the chipsetblock is 23C
See constructions details
---
GFX Card test result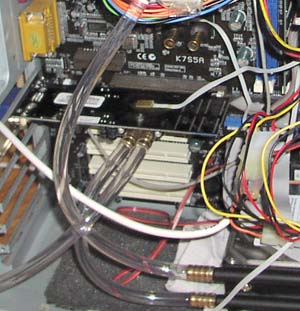 Before: Case open = 44C, Case closed = 48C.
After: Water @ 23C gives GFX = 39C
Sensor placed at rear side to measure highest possible temperature.

See constructions details
---
Harddisks test result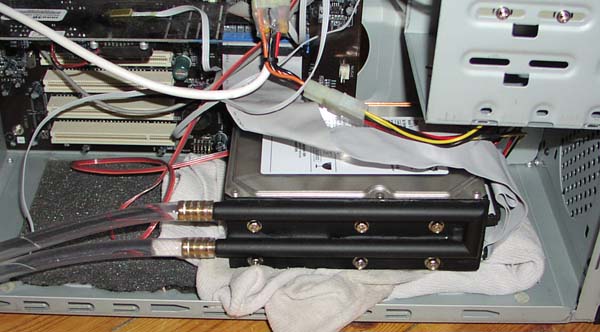 The first test on the double harddisk cooler was also verry satisfing.
I turned powerdown off, then used both disks for 3 hr, then they reached 45C (Fell really hot !)
Then I started the waterpump with a few liters of 23C water,
after some time the harddisks stabilized at 30C (that almost feel cold !!)
the water ended at 25C, the room temperature was about 21-22C.
Both harddisks uses 13W = 26W total power. So heatsink perform 0.19 C/W Impressive !!
A normal alu Heatsink huge size 300 x 300 x 40 mm perform only 0.28 C/W
When the system was complete, I added some white heat transfer compound to this watercooler.
Results now: Harddisk temp = 24C, water temp = 23C.
---
Powersupply test result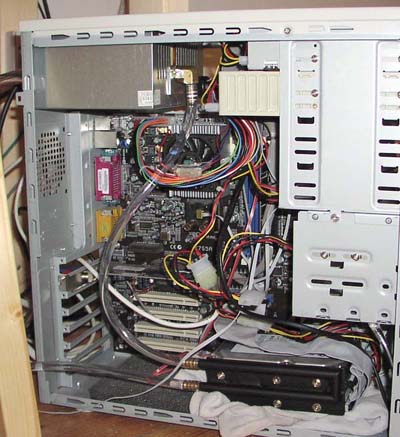 Since the sensor is mounted directly on the 5V retifier, the PSU temp reading will be rather high,
I mounted the sensor a long time before modding it to watercooling, so I could get good before-after results.
Before watercooling: closed case thie diode could reach 68C but with case open only 60C
This is a result of too low air flow, inside the case and PSU. The fan was running full speed, making alot of noise
Watercooling and NO FAN: the PSU diode is 24C higher than water temp. water @ 26C the diode = 50C
The copper is only 3 degree hotter than water, so why is diode temp so high ?
The power this diode waste is huge, most of all loss in the intire PSU is done in this diode,
and the heat transfer to copper is done with a bit of loss, that is why.
But: the big output coil placed close to the sensor is also hot !
heat from that coil is transfered directly to the sensor giving a wrong high temperature reading
I have tried to add a 80mm fan at 5V just outside the PSU, now the PSU sensor reads 45C
I will soon add watercooling the that coil also.. I dont like fans..

See constructions details
---
RADIATOR test results
Please see the Radiator 2 page
---
Old non watercooled system.
No water installed temperatures, PC case open one side:
CPU motherboard sensor = 45 C
SYS motherboard sensor = 25 C
Chip set = 36 C
GFX GPU = 44 C
Harddisk = 39 C, mounted in case the normal way
PSU 5V Diode = 60 C
Casetop lid = 24 C

No water installed temperatures, PC case closed:
CPU motherboard sensor = 53 C
SYS motherboard sensor = 28 C
Chip set = 45 C
GFX GPU = 48 C
Harddisk = 41 C, mounted in case the normal way
PSU 5V Diode = 68 C
Casetop lid = 26 C
Free counters at counter.digits.com