Digital Wattmeter Byggede af radioamatøre og andet godt folk.
Mail pictures of your own homemade OZ2CPU digital wattmeter to me.
Then I will put the pictures here, fell free to add some text also.

Danish EDR departments that have made this project:
Frederikssund, Hvidovre, Ballerup, Birkerød, Aabenraa, Ålborg, København,
Silkeborg, Skanderborg, Svendborg, Vejle and many more..
Plus: Austria, Brasil, France, Sweden, Norway, Italy, Germany.


Kasse lavet af sort malet print plade, tekst skrevet SENO ark (OZ2CPU)
Flere detaljer om denne kasse Er Her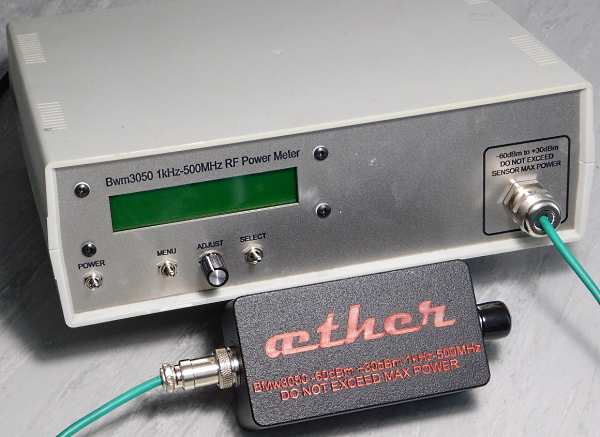 LZ1SWE using external detector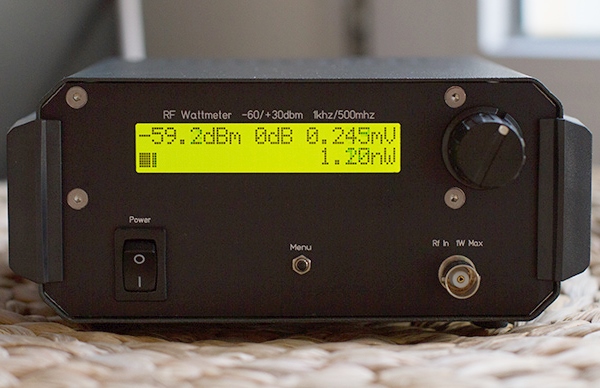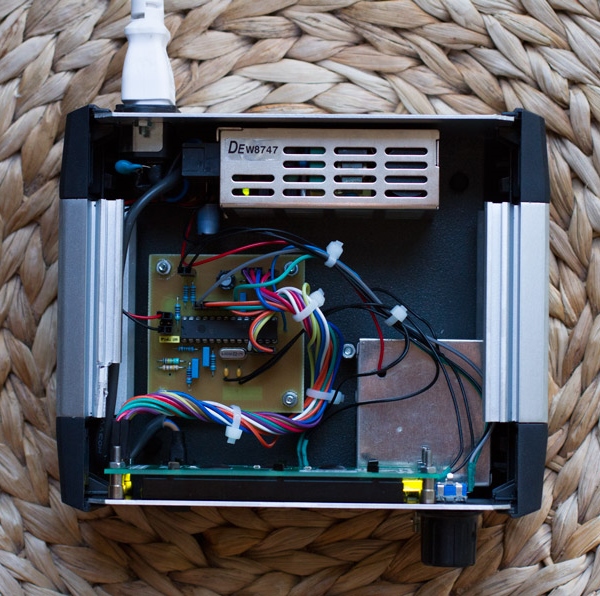 F4HUY http://www.f4huy.fr/?p=781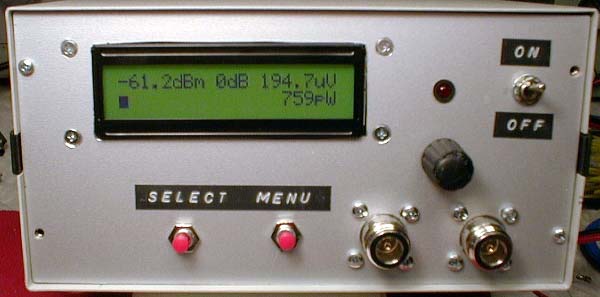 Kasse af alu og jern, Begge indgangs kort monteret (OZ6SI)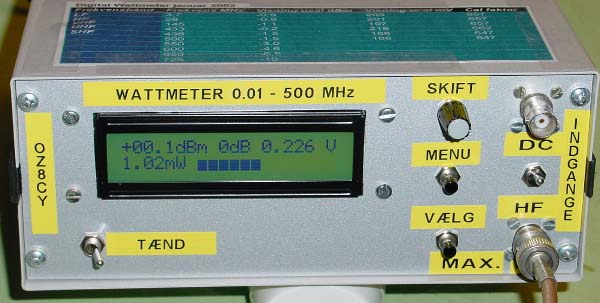 ELMEC LC850 Kasse, Et indgangs kort monteret (OZ8CY)


Alumin kasse, Et indgangs kort monteret, 2000 mAh NICD batteri (OZ1FDD)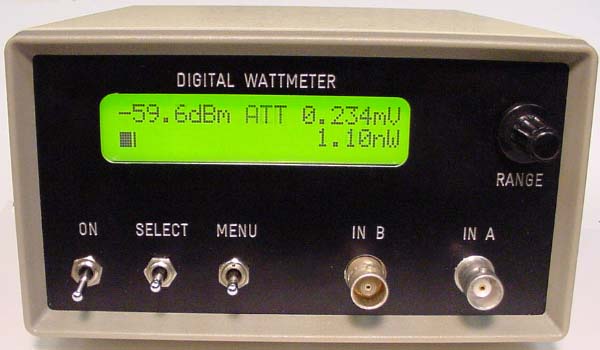 Gammel PC parallelport switch kasse købt for 2kr,
På bagsiden kan man vælge hvor kraftigt LCD lyset skal være for at spare på batteriet
Menu / select kan vippes både op eller ned for aktivering
Forplade fræset i alu og tekst graveret (OZ5ZF)


En PC interface kasse ombygget,
Under display kan kontrast reguleres,
Display rammen er hjemme fræset i plastic
Forplade fræset i alu og tekst graveret (OZ4VJ)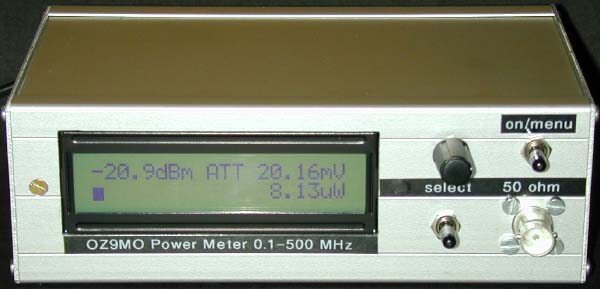 Kassen er en eloxeret alu-kasse i europakort-format 100x160x51 mm,
"Euro-Gehause 2", m. indbygget 230V strømforsyning.
Menu knap er også power on/off (OZ9MO)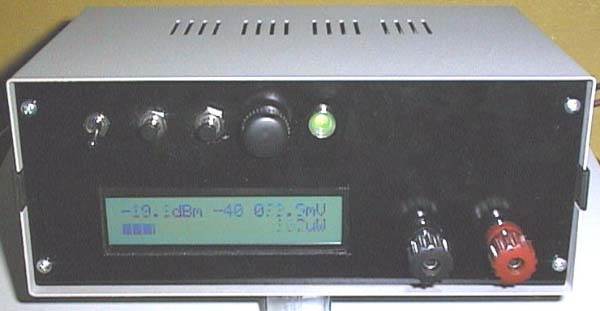 Et indgangs kort monteret på bagsiden (OZ1WDZ)


Kassen er valgt så den passer sammen med alt mit andet hjemmebyg,
Indbygget net trafo og strømforsyning, tekst skrevet med label manager 100 (OZ9FW)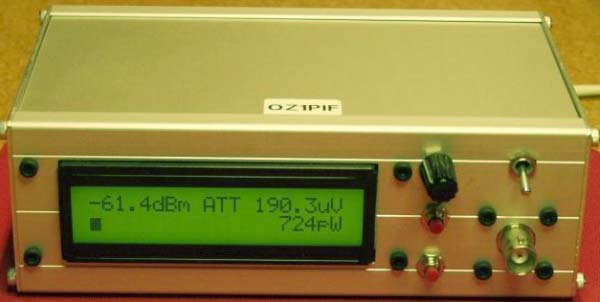 Kassen er en eloxeret alu-kasse i europakort-format 100x160x51 mm,
"Euro-Gehause 2" Indbygget strømforsyning med afbryder på 230V siden (OZ1PIF)


Kassen er en gammel MK kasse genbrugt. (OZ1CJX)


Kassen er hjemmelavet af sammenloddet printplader, der er malet hvide. (OZ2VM)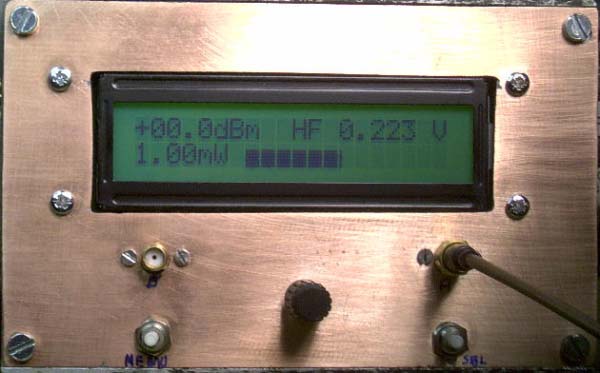 For mig gjaldt det om at få kassen så lille som mulig. Jeg har valgt at bruge en fræst alluminiums kasse jeg havde liggende,
den har målene 14x9x3.5. Forpladen er et stykke printplade. Jeg har brugt SMA konnektorer. (OZ2TG)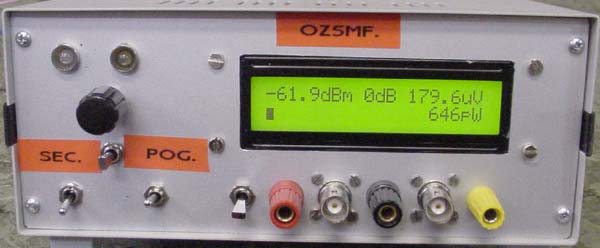 Kassen er købt i Åge Nilsens eft. Det er en ELMEC type LC-750, der er inbygget 230 V powersupply. (OZ5MF)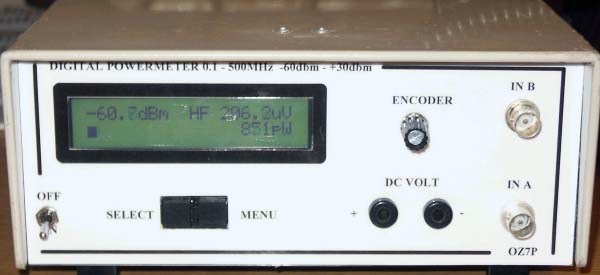 Vi laver forpladen i et printfremstillings program P-Cad 2002, printer det ud på alm. hvid papir,
laver hul til display, laminerer hele forpladen, laver hullerne til encoder og afbryder m.v. med en huggepibe..
klæber forpladen på et stykke printplade med tæppetape.. bemærk der er ingen synlige skruer på forpladen,
en hurtig og nem måde at lave forplader på.... (OZ7P)


Kassen er købt ved Vejle RC, der er to indgangs kort så den kan fortage SWR måling, RS232 udgangen sidder på bagpladen, der er indbygget strømforsyning/lader. (OZ0TH)
Det var OZ0TH Thomas der aldrig havde haft en loddekolbe i hånden før vi startede på digital wattmeteret, men han gik sku frisk til sagen, og med lidt hjælp ingen problem,
dyret virkede i første forsøg, modsat mit jeg havde ingen lys i displayet, så du kan tro Thomas klappede sig selv på skulderen, "den er vis blå inu" det er virkelig godt gået,
især når det er SMD han lagde ud med.. MVH: OZ1HPL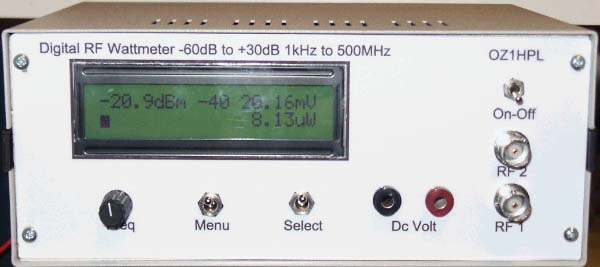 Kassen er købt ved Vejle RC, der er to indgangs kort så den kan fortage SWR måling, RS232 udgangen sidder på bagpladen, der er indbygget strømforsyning/lader. (OZ1HPL)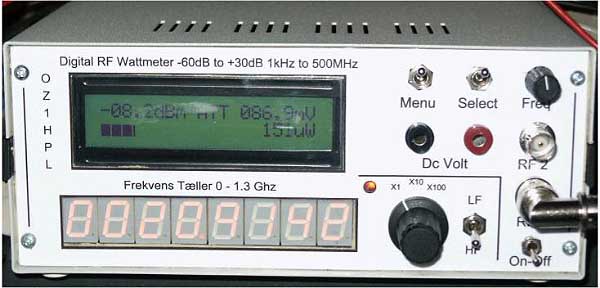 Har lavet en mindre udvidelse af wattmeteret, har indbygget frekvenstælleren fra EDR's forlag,
så kan jeg se ved hvilken frekvens jeg måler effekt ved,
det ser ud til at køre godt sammen....Jeg stjæler signalet ved, tror det er modstand 16,
der hvor det er beskrevet på hjemmesiden,
også med skærmet kabel til HF indgangen på tælleren, LF indgangen på tælleren er monteret på indgang B's indgangs print...
Bare et lille stykke tråd i BNC-stikket, så viser den måske 100uW med min håndstation i nabolaget, og tælleren fanger 100% signalet..
Min ven OZ0TH er ved at lave det samme ved hans digi-wattmeter... (MVH OZ1HPL)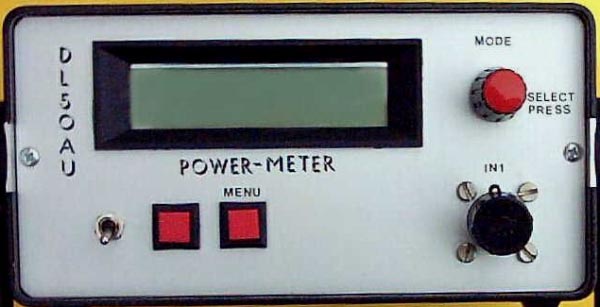 Here is a version of the wattmeter made in Germany by Ulrich (DL5OAU)
---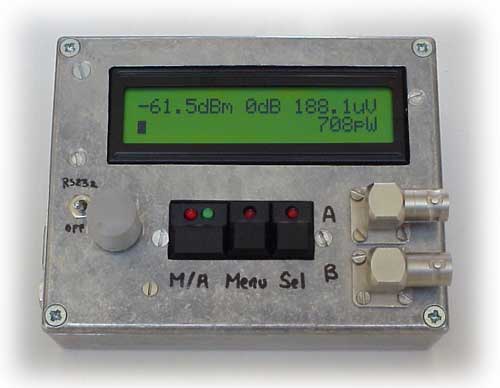 Here is a version made in France by Hubert (F6GOG)
From your schematics, I make only minor modifications..
Complete unit is located inside an Eddystone box (120x34x95mm).
Only few millimetres on the LCD PCB were in excess and removed.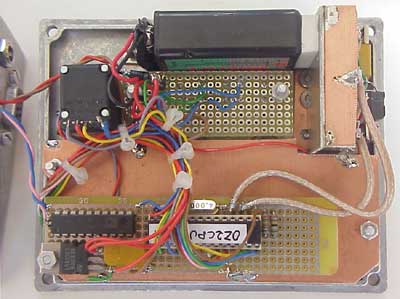 inside the digital wattmeter; all parts are fixed on the cover exept the RS232 DB9 and power supply connector.
For optimised battery operation, LCD has no backlite and 5v regulators are L4805CV (low drop).
Battery is 8v4 150mA Ni-MH always inserted and protected by a 1N5817 schottky diode when external power supply is used.
Charge is set to 15 mA by a 390 ohms with power supply used. Input filter is a Murata double L type BNX 002-01.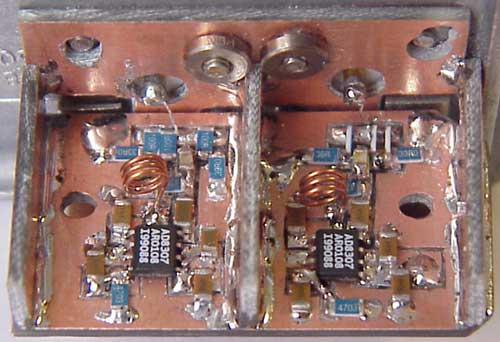 the detectors behind the BNC connectors and before to be shielded. Offset resistors on pin 5 are been added after the photo.
Input board, output difference around 35 mV from my two AD8307 for the same input,
I had shifted the lower one by two resistors on pin 5, 2K64 to +5v and 56k2 to the ground.
Now the response of both AD8307 are very close (adjustment made after the photo).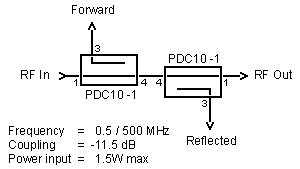 schematics of the directionnal coupler.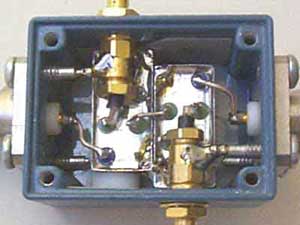 I use for my low-level adjustments a directional coupler with two Mini-Circuits PDC10-1 and
the Tandem Match directional coupler (ARRL Handbook) when power is required. Combined with a DDS Signal generator,
this equipment surclass in size and performances a lot of amateur and semi- professional equipment.
RS232, interfacing is made by ADM233 instead MAX232, (because available). To prevent interference,
I added a switch to cut the 5v for this chip when serial connection is not used but it is really not necessary.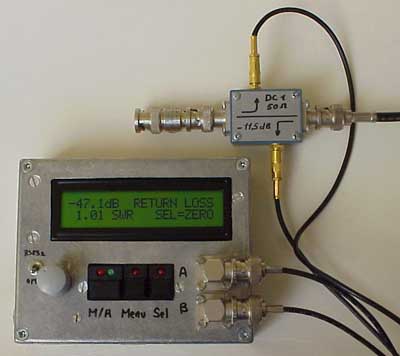 one of the application with my low level directional coupler.
I have still two point in standby, my rotary encoder is a 128pulses/t, a little bit to much,
I look for an other one and the second point concern the calibration for the second input, but you are probably busy with that? (sorry not)
---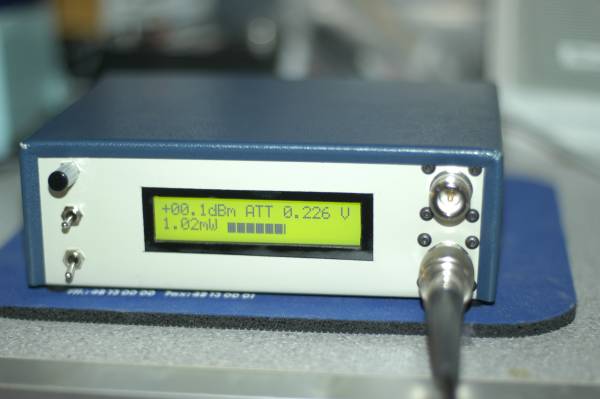 Her er Wattmeteret inbygget i en ganske lille kasse (OZ2M)


This one was made by Johan ON5EX, Helmut ON4AXW, Luk ON6UL, using using ordinary copperclad


Alu skærm kasse med hvide gnubbe ark og mat lak til at sikre bogstaverne med. (OZ7AKT)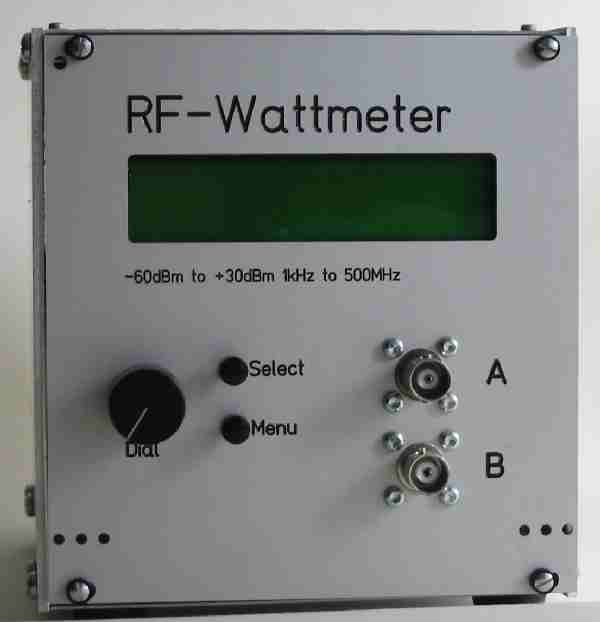 Made by Egon Penker (OE8EPK) from Austria.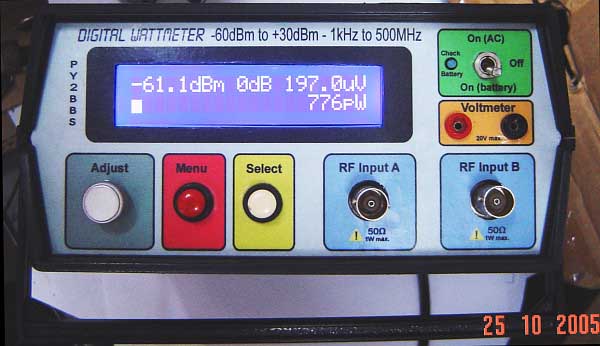 Made by Luciano, (PY2BBS) from Brazil
I have a builded one digital wattmeter and his work as fine! 100%!
My wattmeter: "Assembled in a plastic box (170mm x 80mm x 170mm), and interior of the
box covered with paper (leaves) of aluminum used in kitchen to provide a shield.
Front panel is made with sticker paper printed in an ink-jet printer,
and protected with a sticker plastic film to protect of the dirt and waste.
Have a built-in power supply and provide charge to internal battery bank, made with 9 cells NiMH size AA @ 2100mA."
I have a some mods in software, listed below:
- Add a buzzer (beep) this word on motion in any key or dial
- Add a option "You be Sure? (Menu=NO and Select to Activate)" in a menu 12, to prevent a acidental erase calibration data.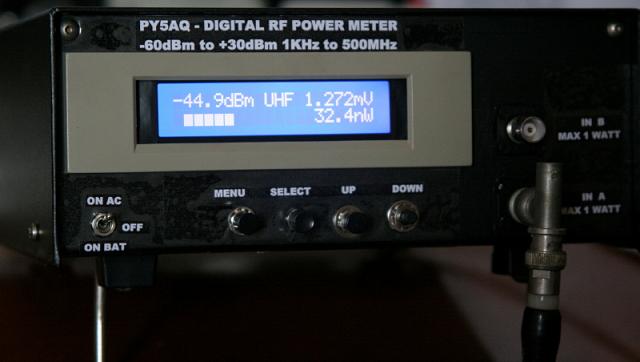 Hello Thomas, Very nice your powermeter project. I build ,and I am happy with results.
Here is a photo of the wattmeter made in Brazil by me Arnaldo Drummond ( PY5AQ ) for your page.
Best Regards from Brazil and congratulations for very fine project. Arnaldo Drummond PY5AQ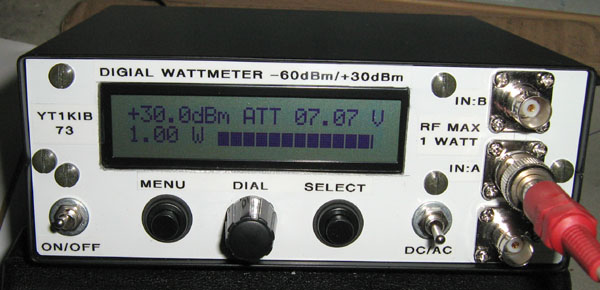 Hello 73 Thomas, Very nice your powermeter project. I build ,and I am happy with results.
Best Regards from Srbija and congratulations for very fine project. Kranjc Bojan YT1KIB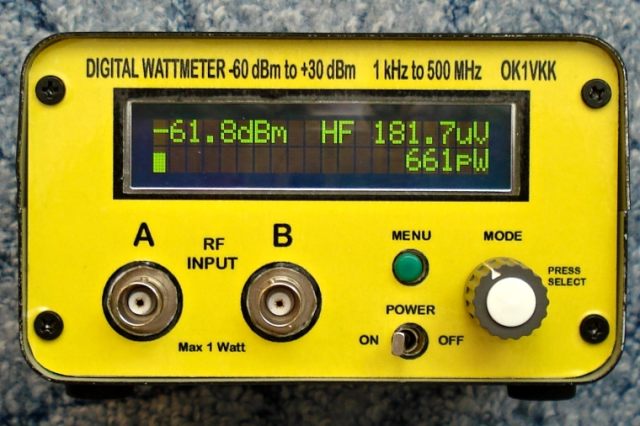 Very nice your powermeter project. I am happy with results. Here is a photo of the wattmeter made in Czech by OK1VKK for your page.
Best Regards from Czech and congratulations for very fine project.
Frantisek Dusek, OK1VKK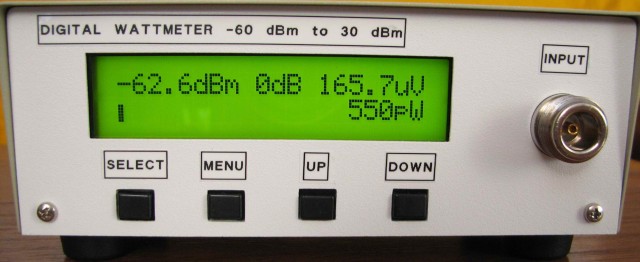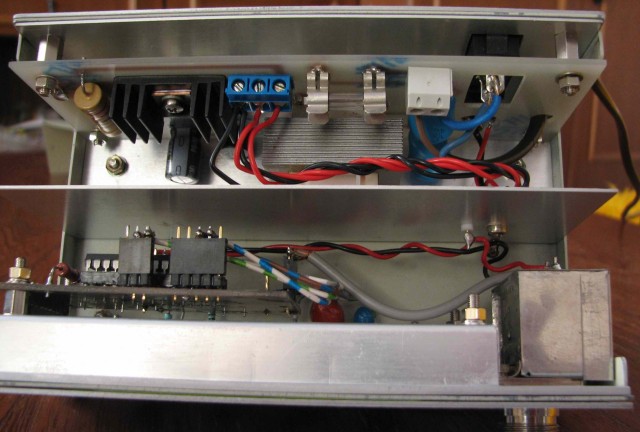 My home made digital watmeter OZ2CPU, Thank you, I greet, Marian SP9MQH
----------
if only I got a $ from each happy dude that have made this construction, I think I will be very rich :-)
so if you made it and is happy, why not donate a bit to my paypal : thomas at webx dot dk