www.webx.dk Start page


The electric powered gocart project
Data:
Made By Thomas Scherrer, June 2004.
Speed = 15-17km/h
Weight = 77.8kg Total
Weight break down: Chassis with motor unit = 32.7kg, Front wheels = 3.4kg, Rear wheels = 7.8kg, Battery = 14.5kg x 2
Seat = 2.8kg, Foot plate = 0.9kg, Steering wheel = 0.4kg, Electronics and cables = 1kg
Length = 120cm (including wheels)
Width Rear = 66cm
Width Front = 60cm
Power = 2 x 13.8V 55Ah Lead Acid L2 Car batterys
Motor unit with differantial 24V 20-100A depending on load (taken from old wheel-chair)
Brake system, electrical magnet system, and electric motor brake
Speed control = Pulse width controled computer system (To be defined)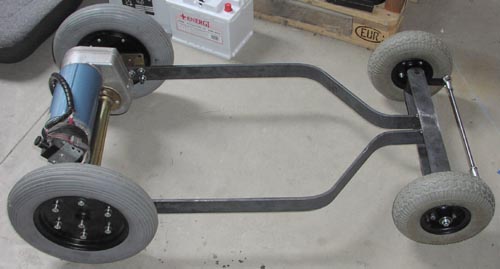 The Iron frame is made of 5x1 cm, and bended using brutal force.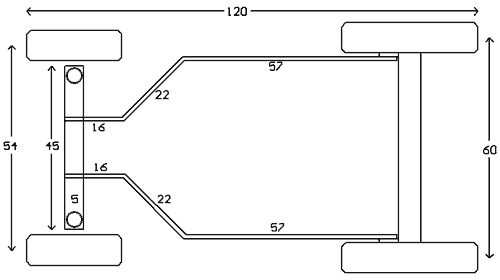 My drawing made so I could figure out how to make it.. all measurements are in cm.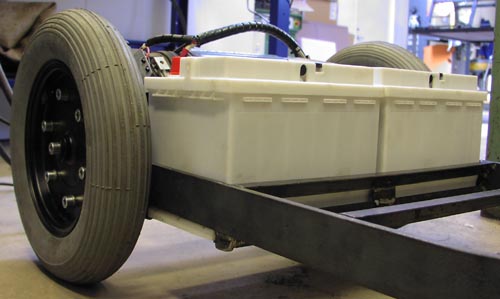 Batteries are lowered to fit under the iron stick.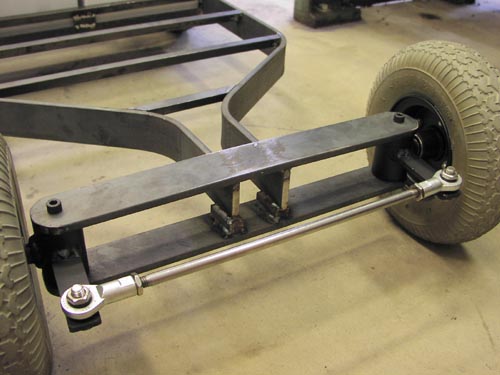 The front wheels mounting will be strong enough for my kids.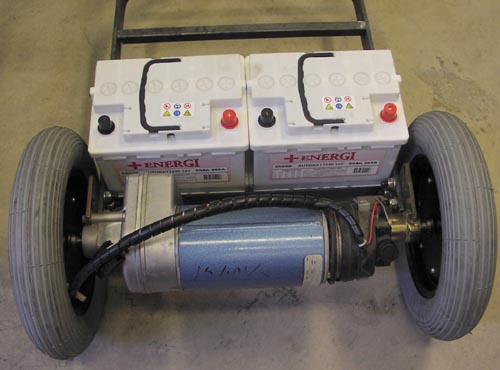 Lucky me !! the length of the two batteries are exactly the same length inside the two iron sticks.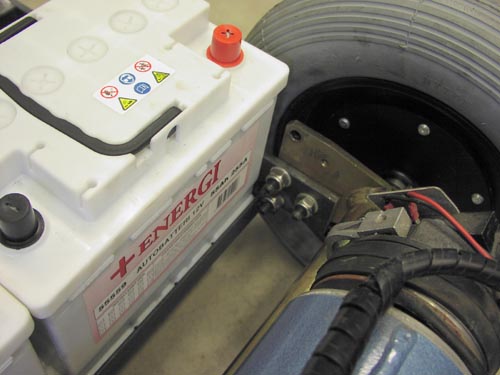 three 10mm bolts are used to mount the rear stuff.. motor and gearbox with differantial is one complete unit.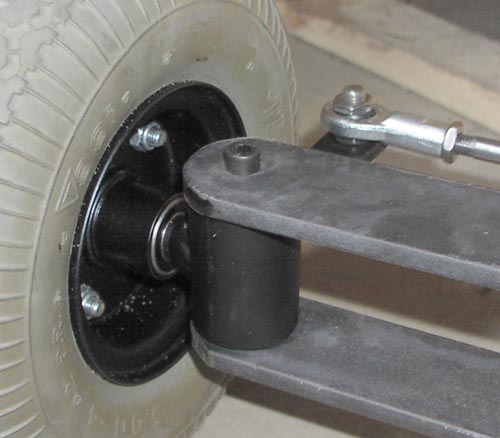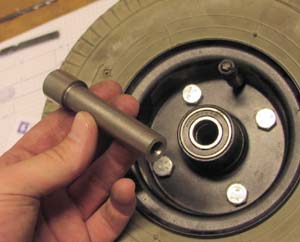 All is homemade using turning lath and welding, the steering stuff are full of ballbarings.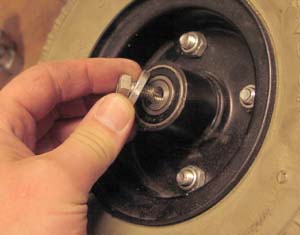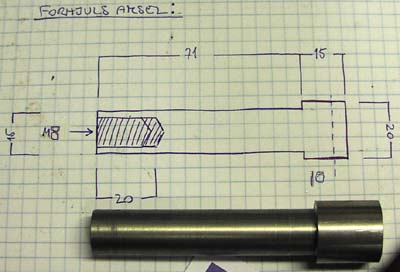 One 8mm bolt is fine to secure the front wheels.

The footrest plate is 8mm plywood.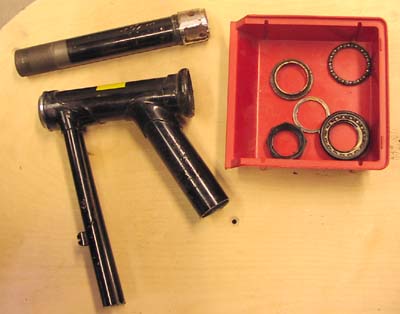 it was easy to use the ballbaring system from an old bicycle.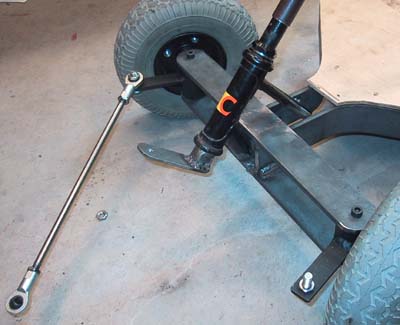 The seat is made using 10mm plywood, , Steering stuff welded in place.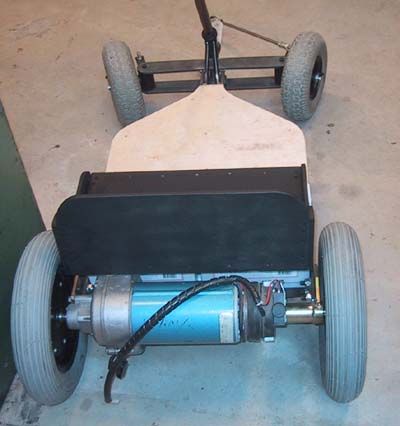 The seat can be opened using hinges, then access to chargeplug, batteries and speedregulator will be easy.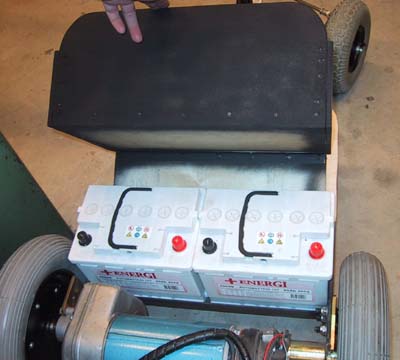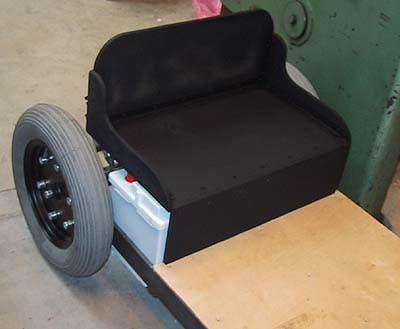 How to make the wooden steering wheel.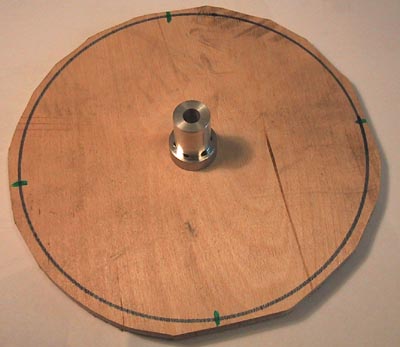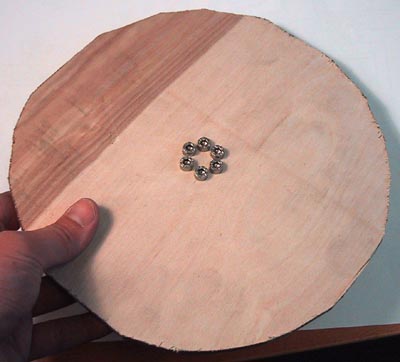 First I made an aluminium hub with six M5 threads, the 3 plywood plates was cut out,
then attached to the hub one by one and then in the turning lathe to make them perfect round.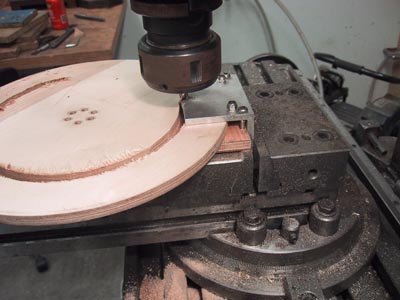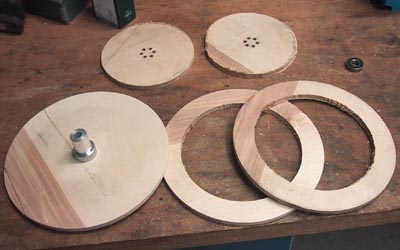 I had to make a special tool for the milling machine, so I could mill out the edge I needed

Last gluing all 3 parts, next day more work in the turning lathe..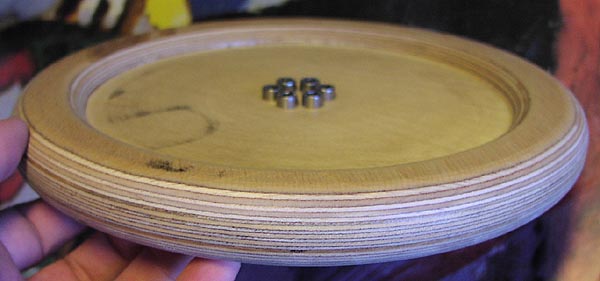 After 20 mins in the turning lathe, and first layer varnish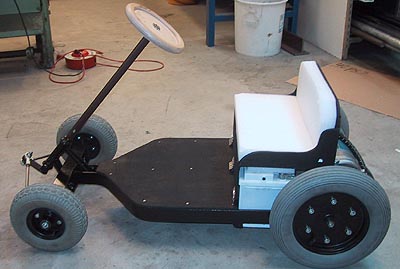 More progress, foot plate mounted and painted, steering wheel mounted.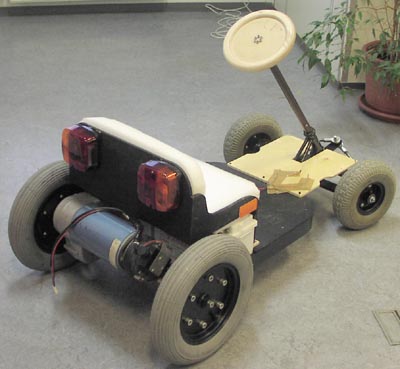 I fould some trailer-lights cheap at a local haral-nyborg shop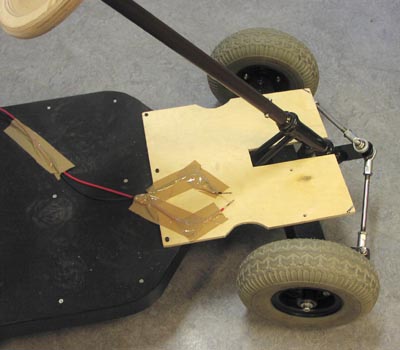 I mounted a plate for the feet and speeder and brake pedals.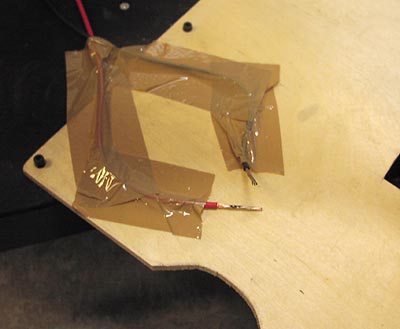 This is the most stupid way to test the max speed of this gocart, using a foot pressed activated switch
and then just push the gocart up to a fair speed and then shout "PRESS THE SPEEDER" and then shout "RELEASE SPEEDER"
oliver-test-drive.avi 800kb here is a 7 sec DIVX4 video clip, note his foot most of the time is used to slow it down again !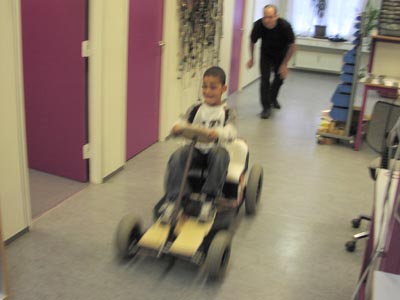 We made the test a few times indoor becoarse it was rainning and windy as usual outside,
WOW I was happy and my kid was more than thrilled, the motor force and speed is more than we could dream of !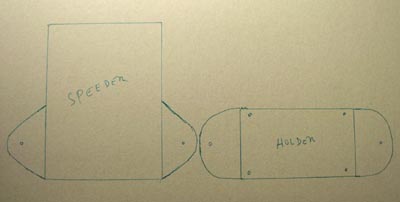 Then it is time for homemade speeder and brake pedals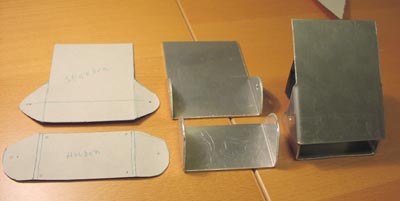 First I made some testing using cardboard, and then just cut it out in 2mm alu.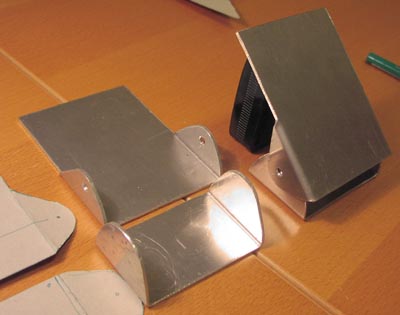 Next steep will be to add analog potmeters, microcontroller and power fets..
Project dropped, kids too small to handle the power