www.webx.dk Start page


MY little Radio Control page


MY little homemade electronics collection page

The Autonomous/RC crawling 6 legged robot with 14 RC servo

First the design idea was made on PC, See bigger picture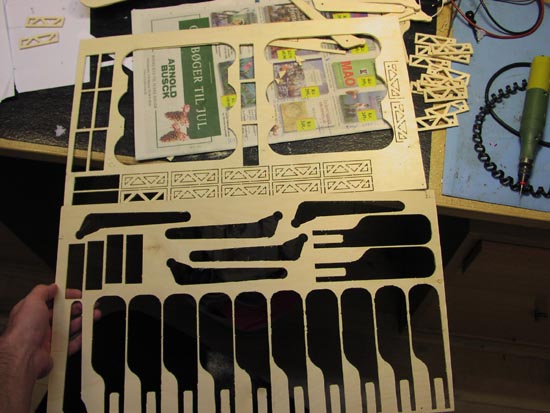 Two plates plywood, 3mm thick, 51x30cm each, was used.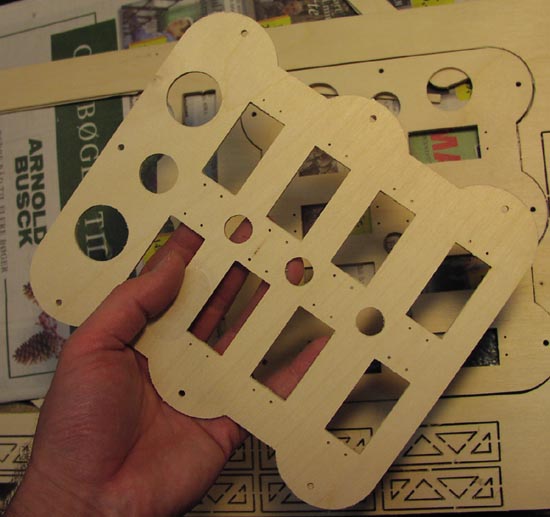 After the milling machine had been busy for a few hr.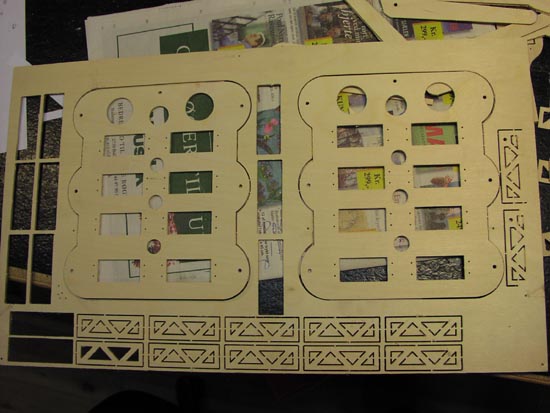 I guess if I had not been able to get access to a milling machine, this project would have been dropped.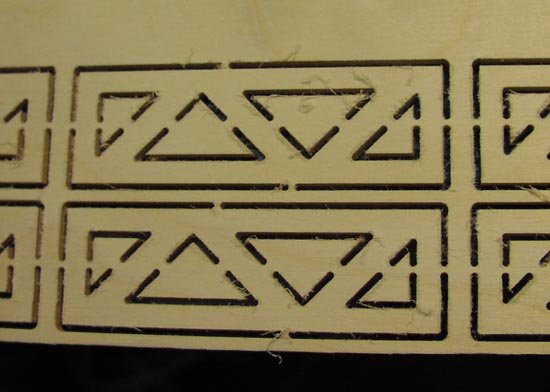 Really nice and accurate work.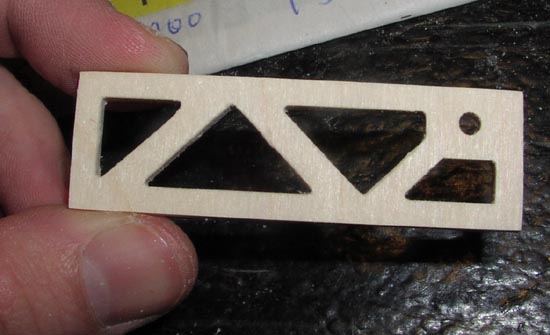 Each item was hand milled out from the large stencil, really fast and easy.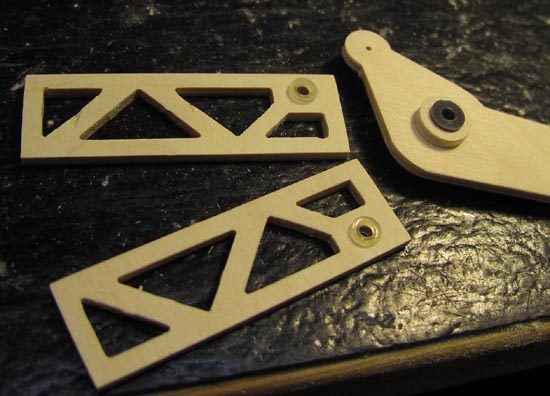 Each of the 6 legs are made like this, nylon barings was used, the ones used to mount TO-220 transistors.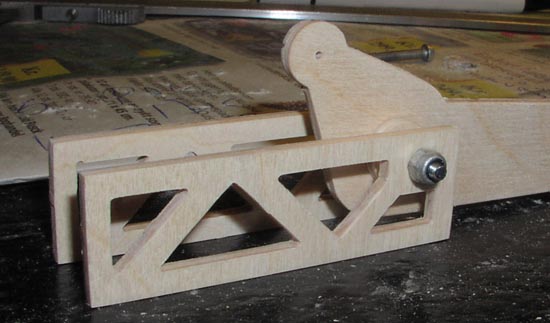 Leg detail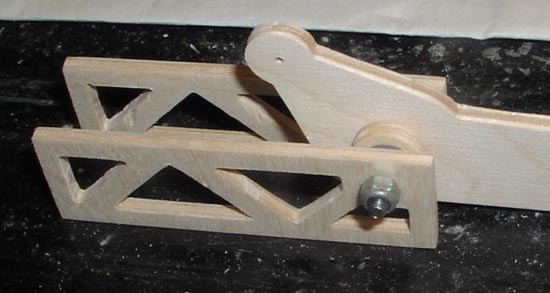 More leg detail.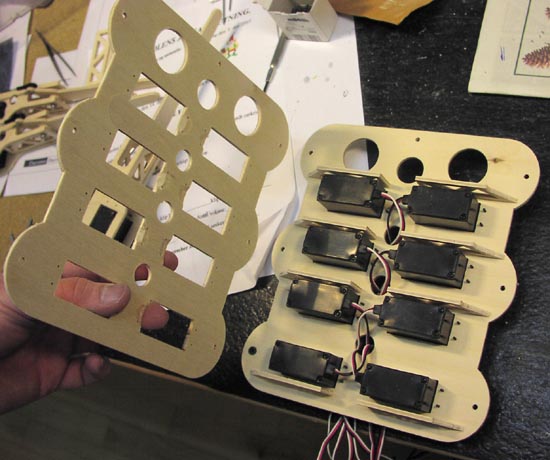 Main body part have 8 servos, 6 for the legs, and two for the head pan tilt system, will be added later.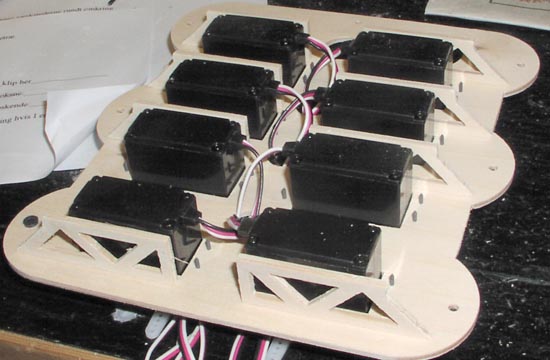 The holes I have added is used to fit the cables.


Bottom plate glued like this.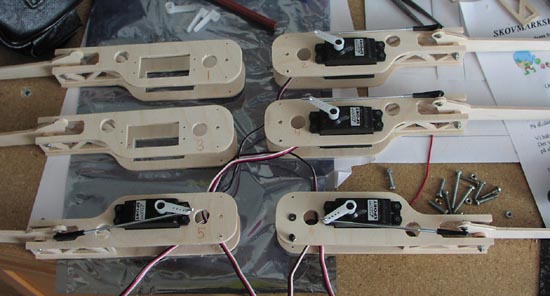 The legs with some servos mounted.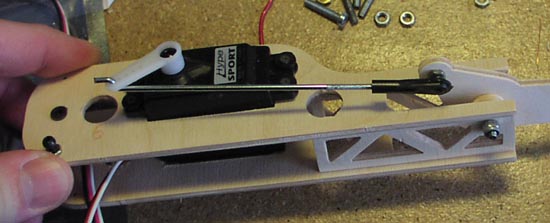 I had to visit the local hobby shop a few times to get all the small fittings I needed.

Check, servo=centre, Leg=centre, quite ok, the rest will be adjusted in software.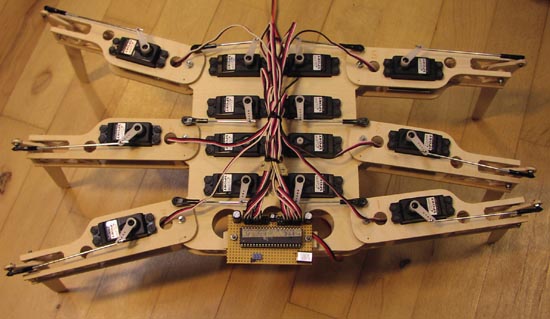 Crawling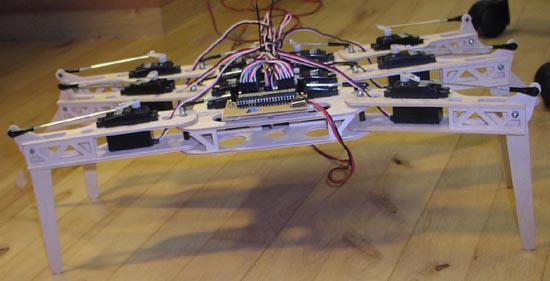 Looking good , but a little bit slow and unstable in the beginning.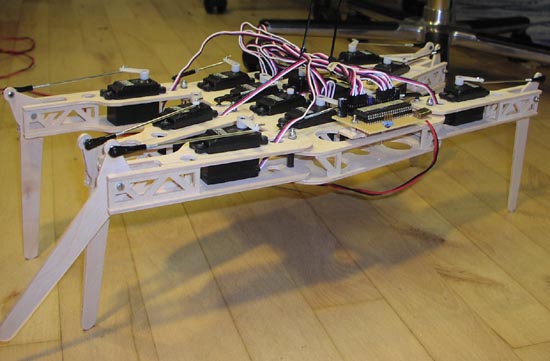 After a few adjustments it goes ok.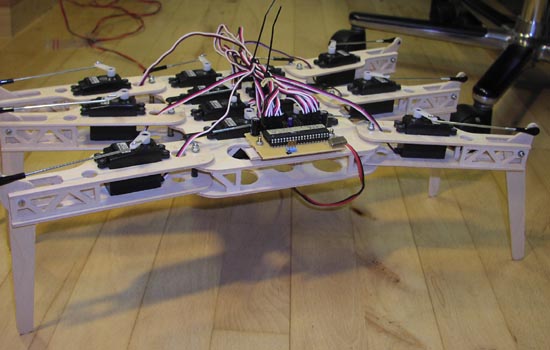 The microcontroller I have used: Atmel AT90S8515 at 8 Mhz, Compiler used: WinAVR free GCC GNU-C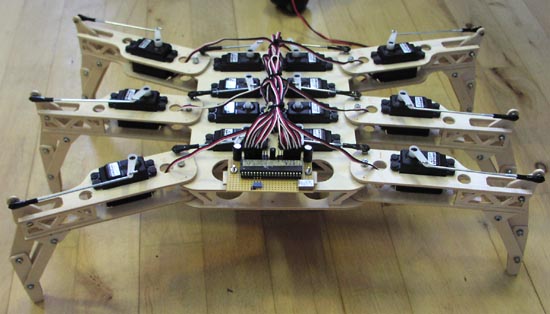 Here is the 6 legged robot crawler with his new legs.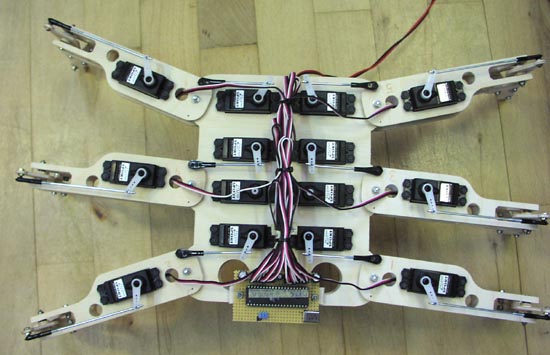 The crawling is much improved now, since the legs goes more straight up, so they don't get stuck in carpet and stuff.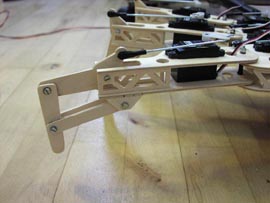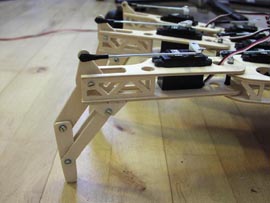 Close-up leg up and down position.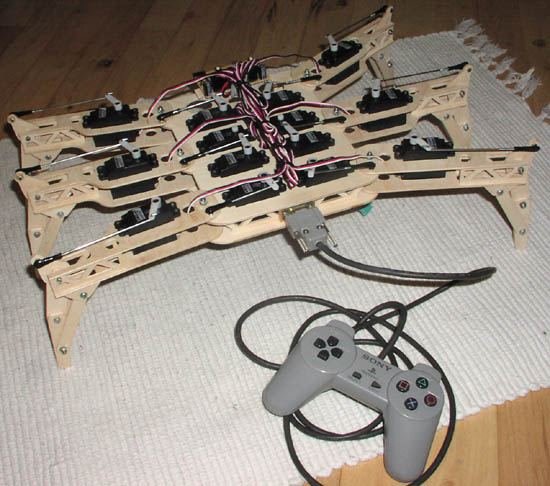 now I have added a plug for a playstation gamepad so I can test all the walk cycles and change several parameters while it walk.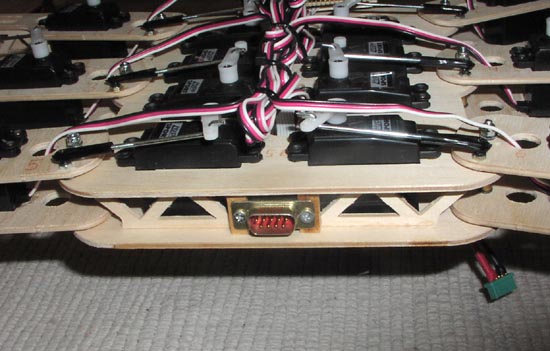 here is the DB9 plug mounted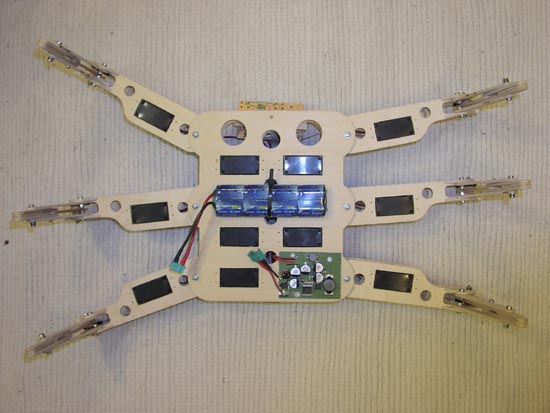 Battery and power supply mounted at the bottom plate.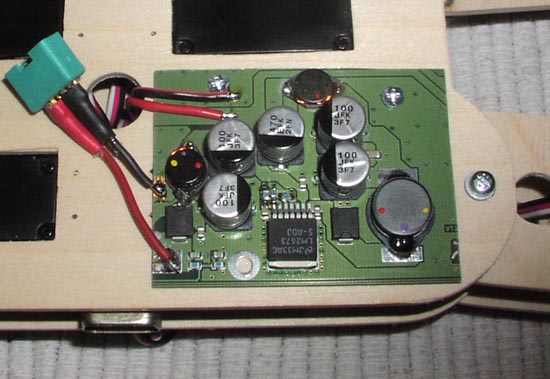 This simple switcher LM2673 convert 9V to 5V almost without loss, and handle 3A load, this board is cut out from a much bigger board I found.

Video clips in AVI format: first crawl cycle straight. with first version of legs.
Video clips in AVI format: Idea how to design the new version of legs.
Video clips in AVI format: New crawl cycle straight. with new version of legs.
Video clips in AVI format: Crawl close-up with new version of legs.
Video clips in AVI format: Fast crawl with parallel updating of servos, much faster response and much more power.
Video clips in AVI format: Fast crawl with sound new walking table more efficient timings

the walk cycle 2-4 mode on the video is 100% stolen from this link: http://home.hccnet.nl/raymond.van.elst/sixleg.htm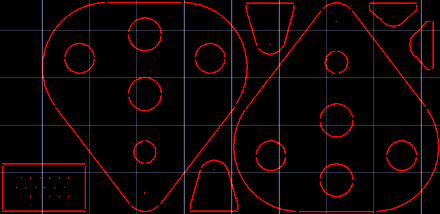 The design for the head unit is made on PC, See bigger picture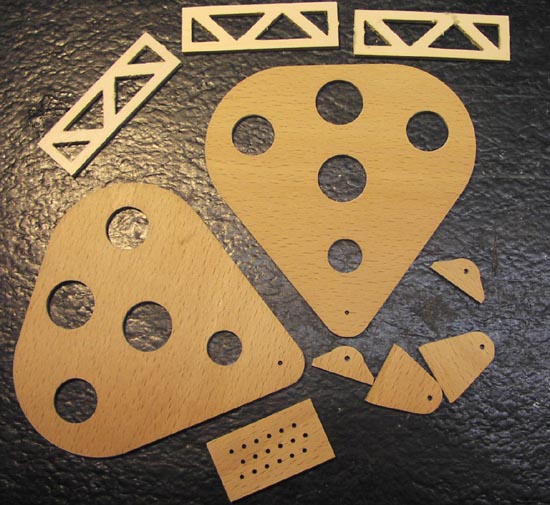 After milling, all the parts needed for the head.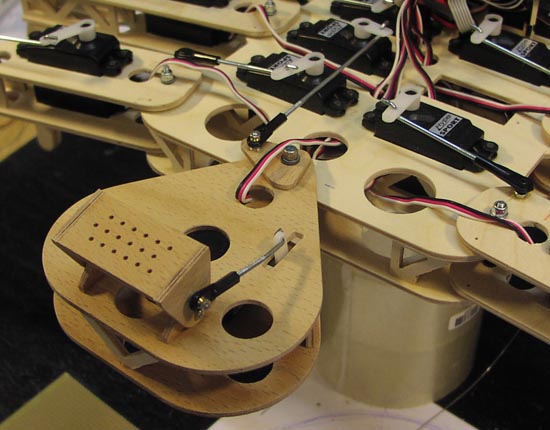 After some gluing and mounting of servo.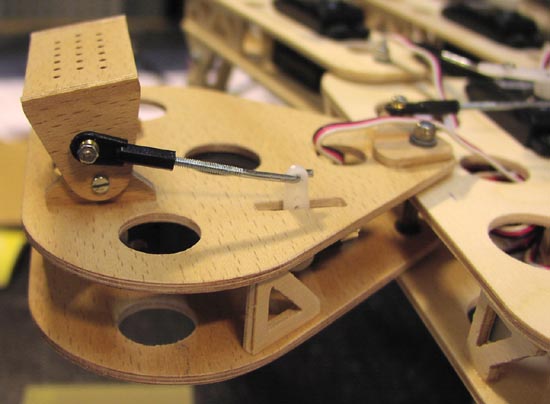 Now ready for camera unit and sonar distance sensors and some more software.
Video clips in AVI format: Head camera mounting moving and head moving.
Made: Dec. 2005 - Jan. 2006 - Thomas Scherrer OZ2CPU.