www.webx.dk Start page



OZ2CPU Radioamateur mainpage



Homemade electronics Stuff old and new



Homemade Nixie Clock 2 big tubes




Here is my own private little Nixie Tube Collection






simple GIF anim of clock in opperation (19:10) the fading has only 6 levels in gif file sorry,
The fading is made using 50 levels of PWM so it looks perfect smooth, in real life.
Schematic and software info is here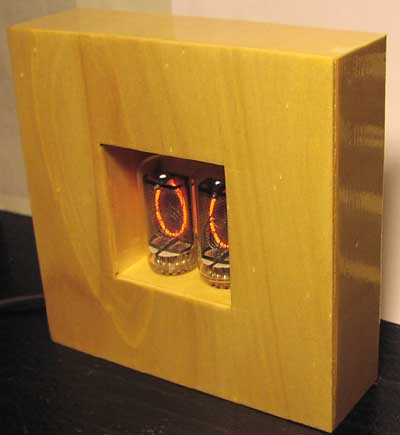 The two ZM1040 tubes with clock and PSU boards are mounted in a nice homemade wood case,
made by Claus Urbach Thanks mate. Case is 180 x 180 x 55 mm.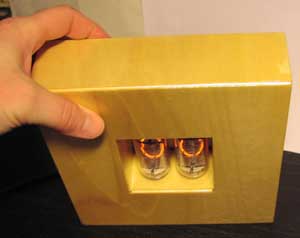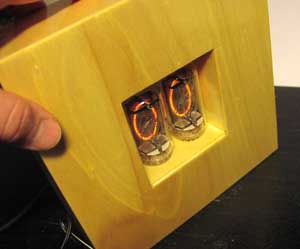 it looks really nice.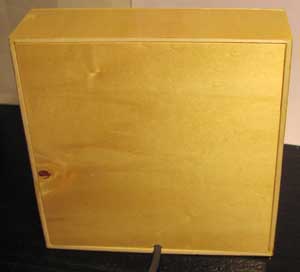 Rear side plate is made to fit perfect,
can be pressed out easy so clock can be set using internal buttons.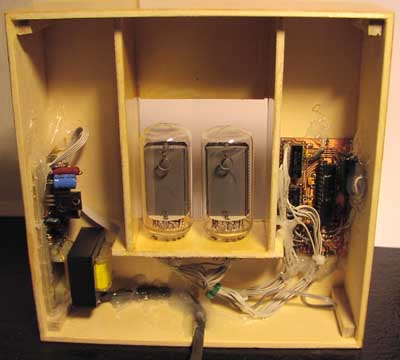 it was important to mount the heawy transformator as low as possible to give best stability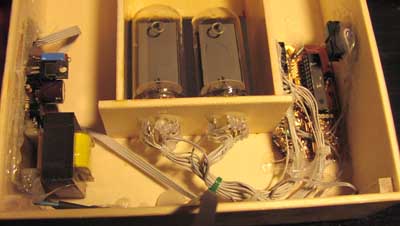 Plenty of spare room inside this big case.

The Set and Dimm buttons are placed inside, so that the nice case was left intact.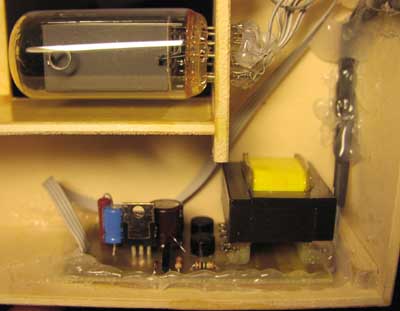 Here is powersupply board mounted just with heat-glue.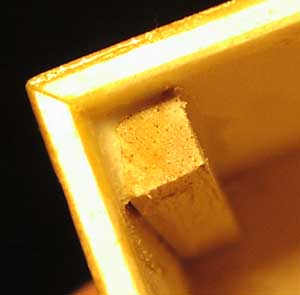 Claus used a 45 degree saw machine to cut out the case, for perfect look
This clock was made back in the good old days using homemade PCB,
After this clock was constructed, we made some nice prof PCB for sale.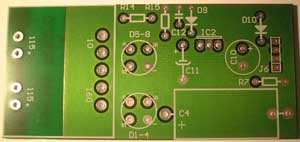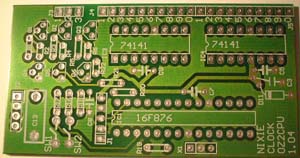 The proffecional made PCB version 1.04, the powersupply and the clock board
This PCB and parts was sold via www.nixieclocks.de from 2003 to 2004.
in 2005 a brand new PCB and new super software will be released..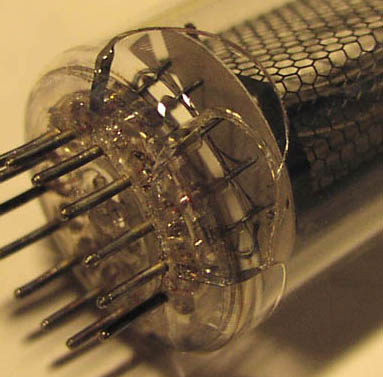 Be carefull not to stress the pins too much, when you plug them in any kind of socket,
if the pin/glass joint is weak you might end up with a broken tube.
Made in Dec 2002. OZ2CPU / Urbach
(Thanks to Claus for the complete case with socket pins)
---

More about Nixie


http://groups.yahoo.com/group/NEONIXIE-L/


This Best Nixie Clock kit for sale Claus Urbach
src="../s.gif">

Want more ?? go to www.google.com and search for "nixie clock" and start reading !!


Free counters at counter.digits.com