www.webx.dk Start page



OZ2CPU Radioamateur mainpage



Homemade electronics Stuff old and new



Digital Clock TTL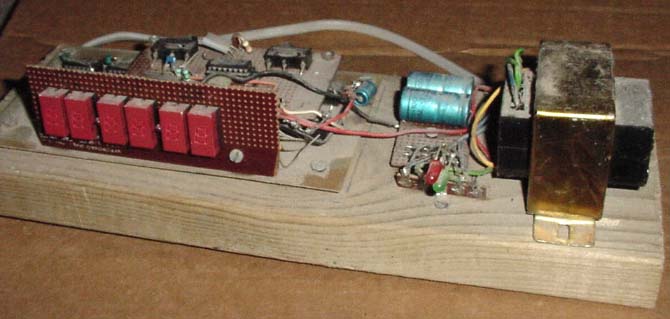 This digital clock was one of the first home designed constructions i ever did, I was in school 5th grade.
Uses 7490 and 7493 counters, 7474 LED display decoder drivers, the timebase is crystal osc. and dividers
It can run for a few month before the gain or loss is too big,
to set the correct time two small switches select 100hz or 10khz clock instead of the normal 1Hz
The transformator I got from an old tape recorder, has only a bridge and some capasitors, no series regulator,
the powersupply is about 5 volts +-0.3 volt
The printed circuit board is hand drawn and etched with feriteclorid (what a mess)
This clock was used for meny years like it is on this photo.
I liked it for showing 24 houres, minutes and seconds at the same time.