www.webx.dk Start page



OZ2CPU Radioamateur mainpage



Homemade Stuff old and new



Homemade Water bottle rockets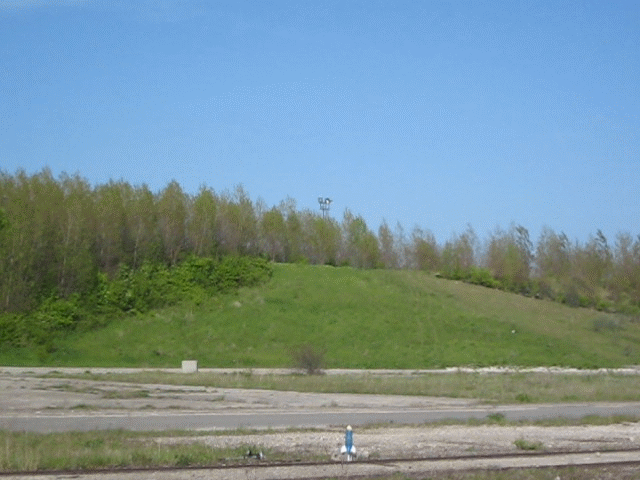 1/20 of real speed !! rocket made by rasmus (400mS pr frame, realtime is 20mS pr frame)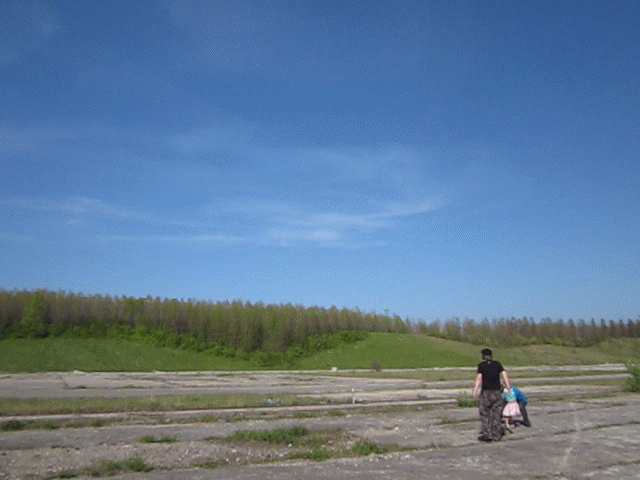 1/5 of real speed, rocket made by pernille (100mS pr frame, realtime is 20mS pr frame)
So water rockets do take off, fast !!
---------
How the launcher platform was made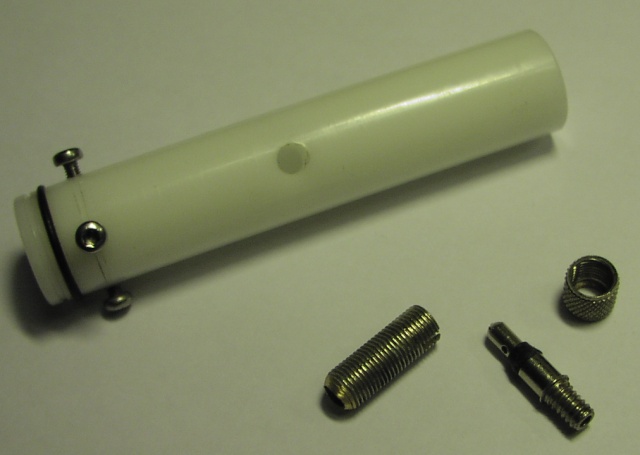 Easy to get parts, o-ring, bycycle valve, plastic, screws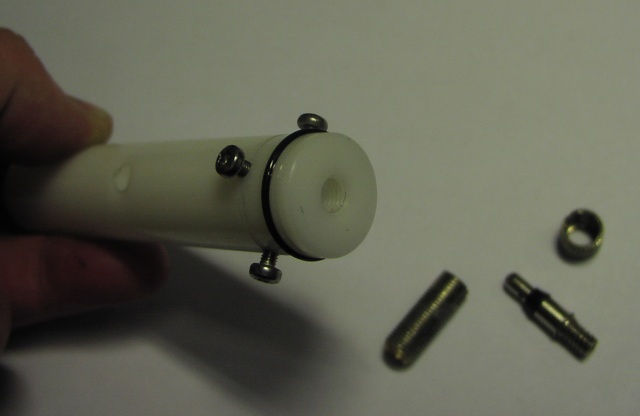 The screws stops and hold the waterbottle when attached to the launcher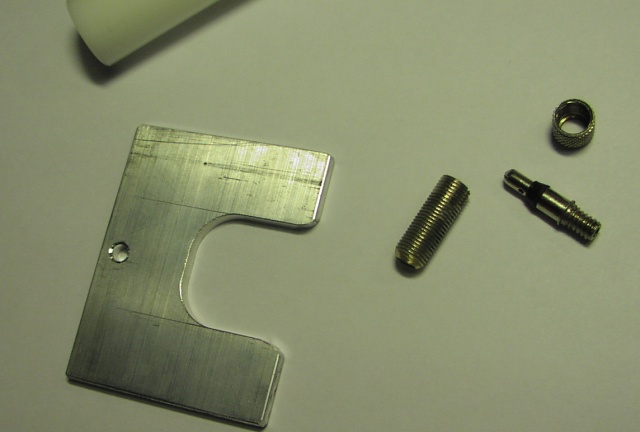 The bottle stopper plate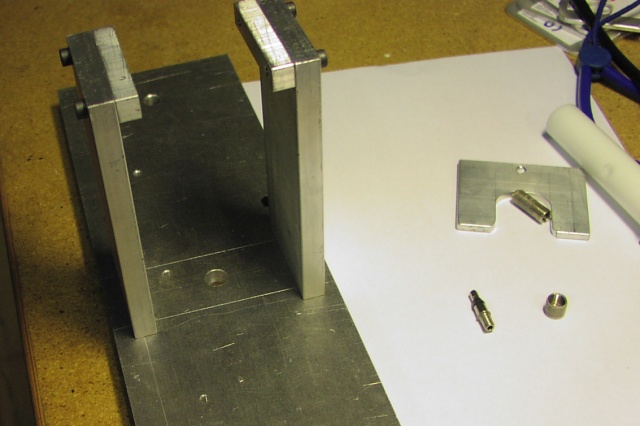 Main fixture made using 10 mm alu plates and 4mm screws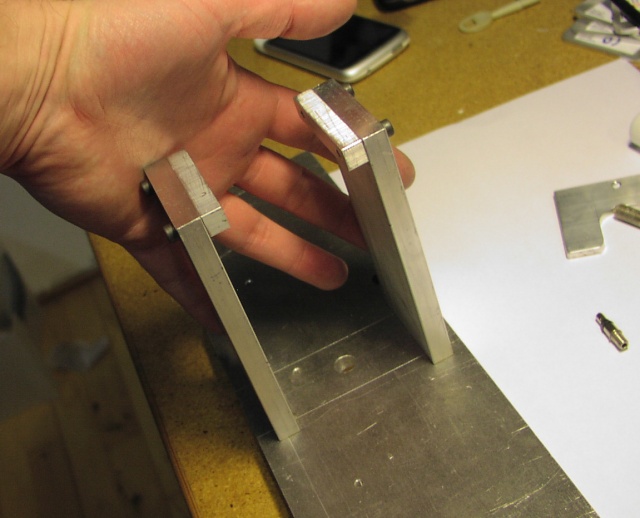 Quite big and solid construction is needed for safe opperation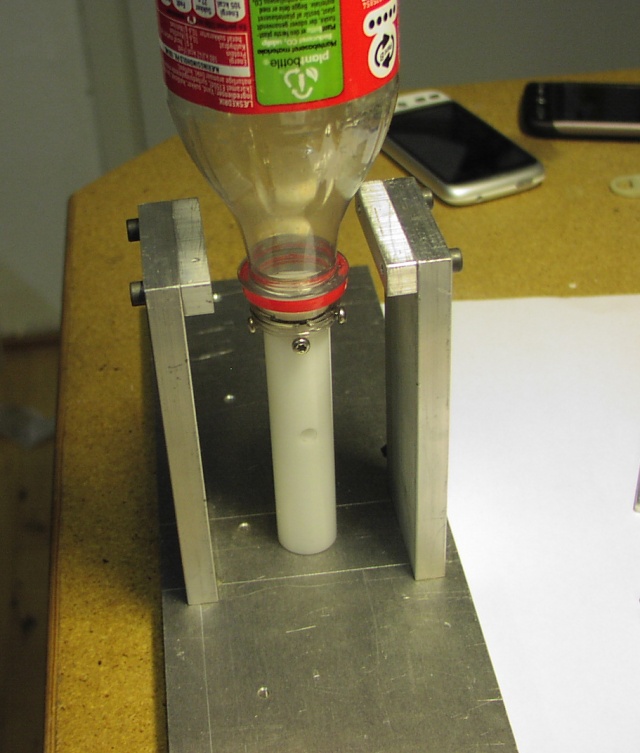 The bottle is offcourse mounted with water inside, upside down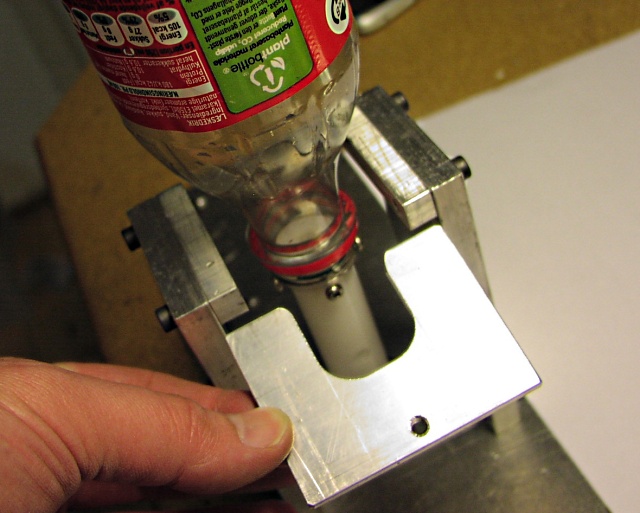 Then holder is carefully inserted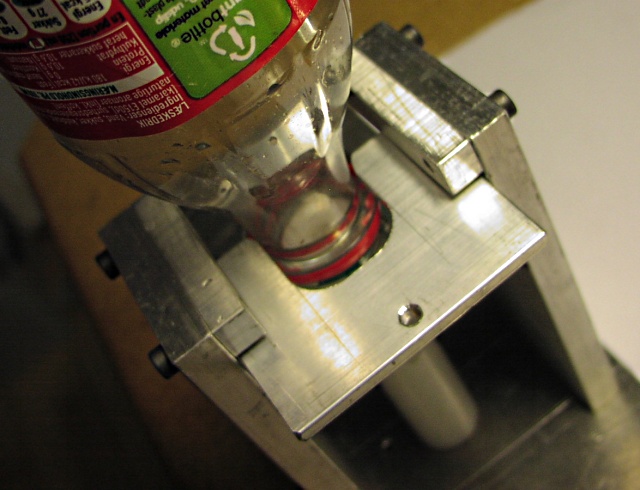 Perfect fit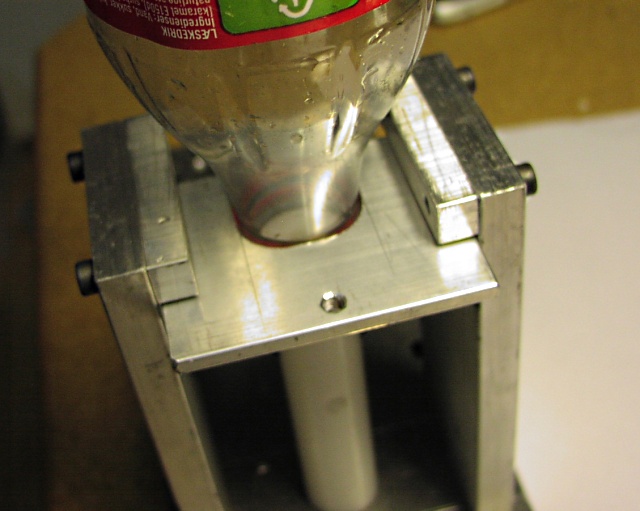 I made about 0.5 mm slip, the pressure will pull up the bottle !! and made it all fit hard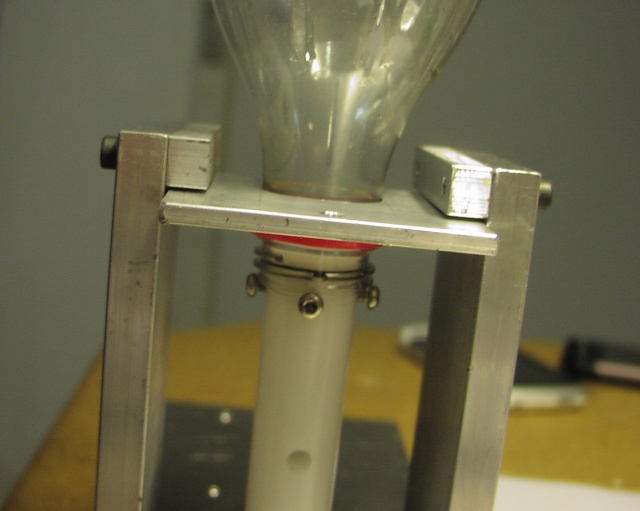 unpressured slip shown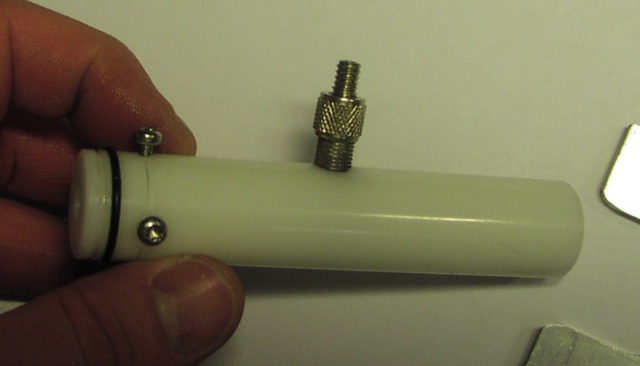 valle parts screwed in, while heated up by soldering iron, this trick made it air tight too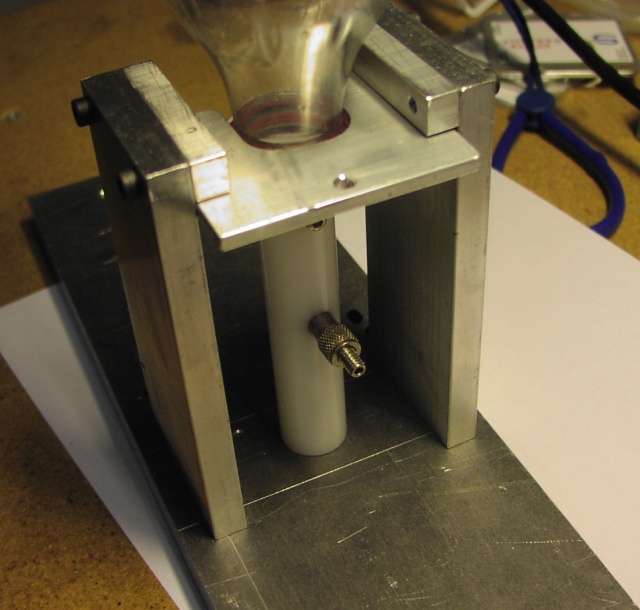 valve on one side, release on other side, now like shown offcourse
---------
Pictures from a day we had some friends over

we made a bunch of soda bottle rockets,
heat melt glue, plastic, metal nuts for weight, soft foam for landing on the tip.


6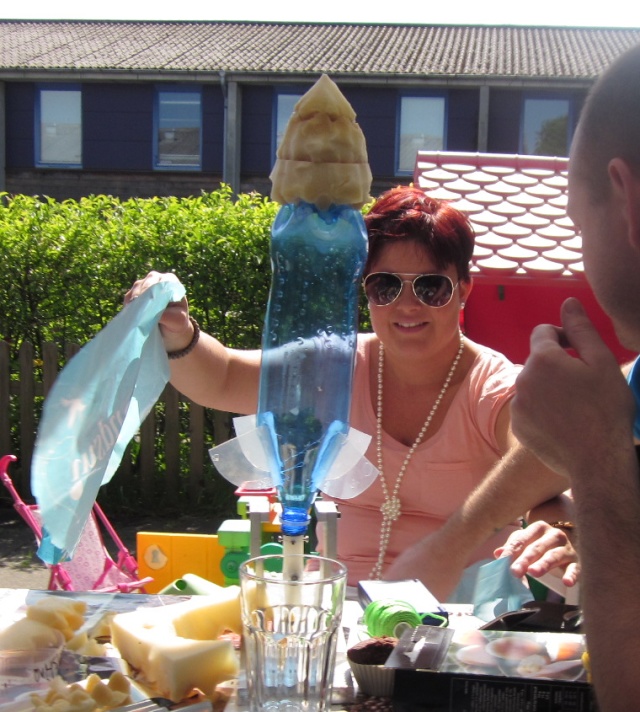 Lets try to add a parashute and see if it work..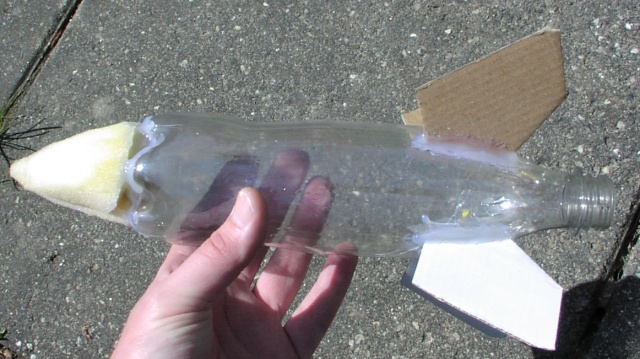 tiny 500mL coke bottle rocket, the fixture offcourse works with all bottles from the cocacola company, they all use exactly same measurements for the screw and holder area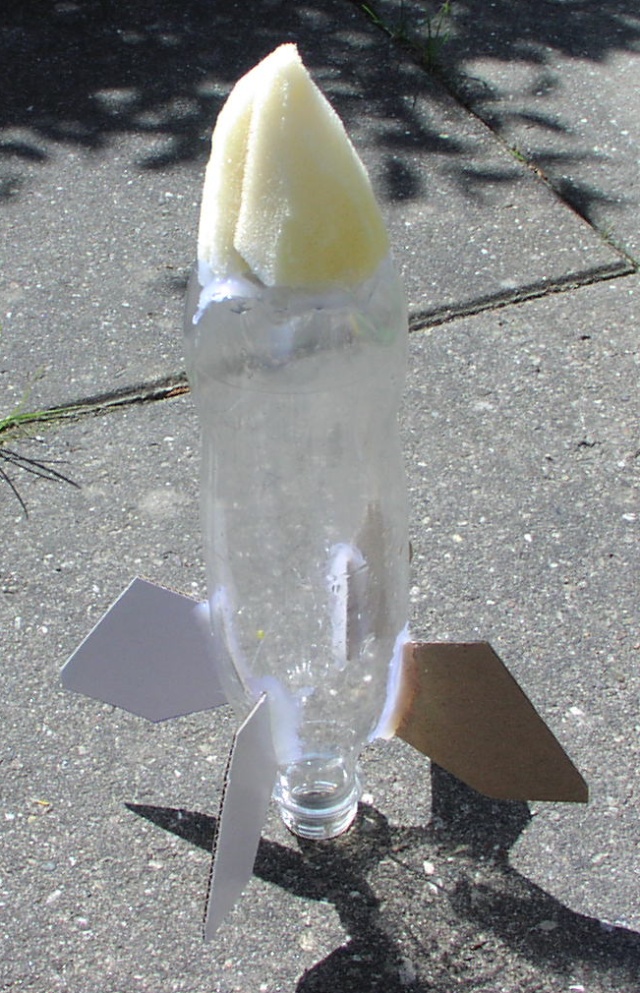 My first water rocket, what a dumb idea to use cardboard !! not good when combined with water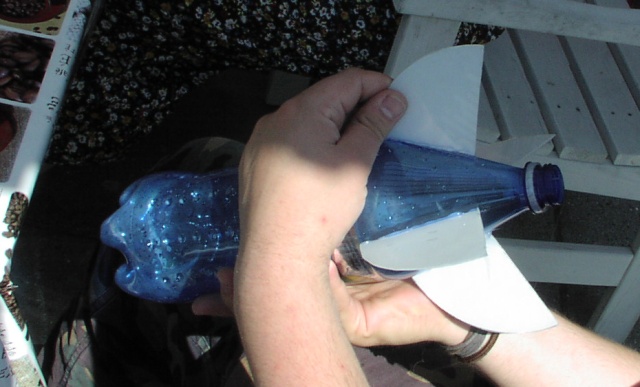 Fins added, no big deal just glue them on as straight as you can see.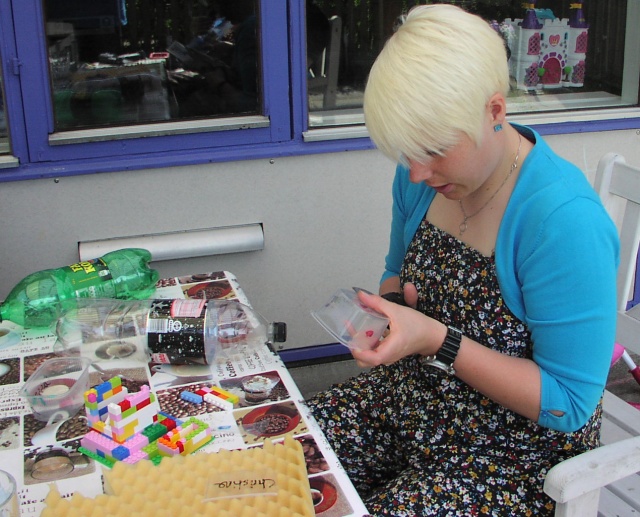 we found useable plastic in the bin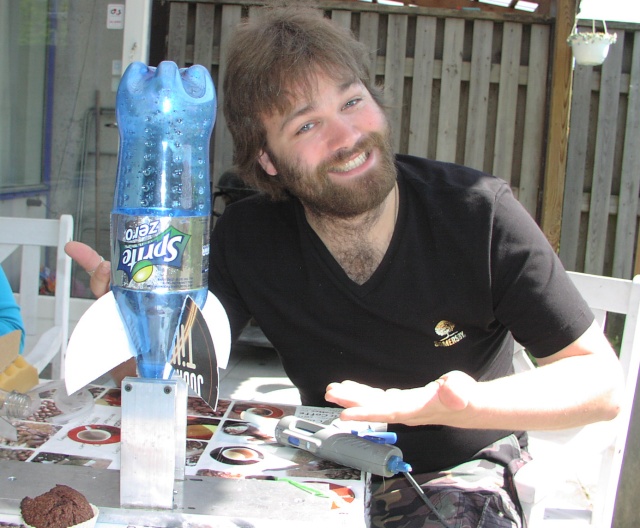 yay.. fins ready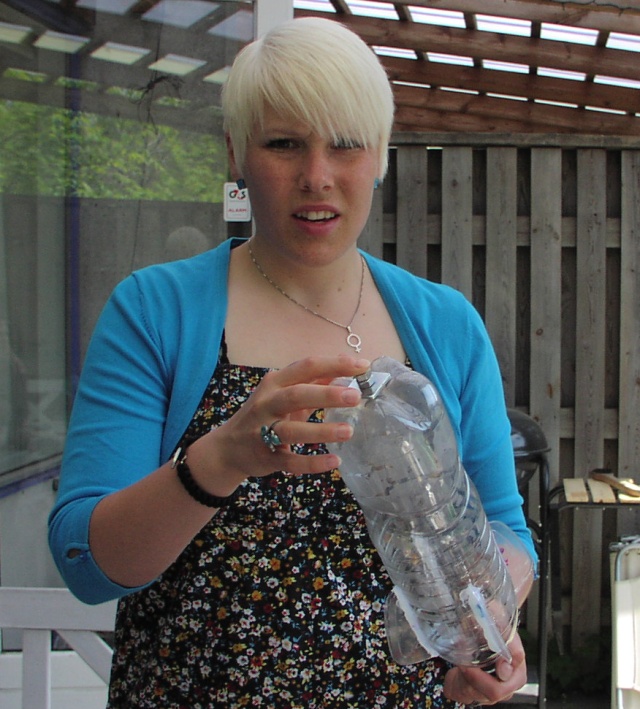 eh, how much metal to add in the tip for good weight balance ?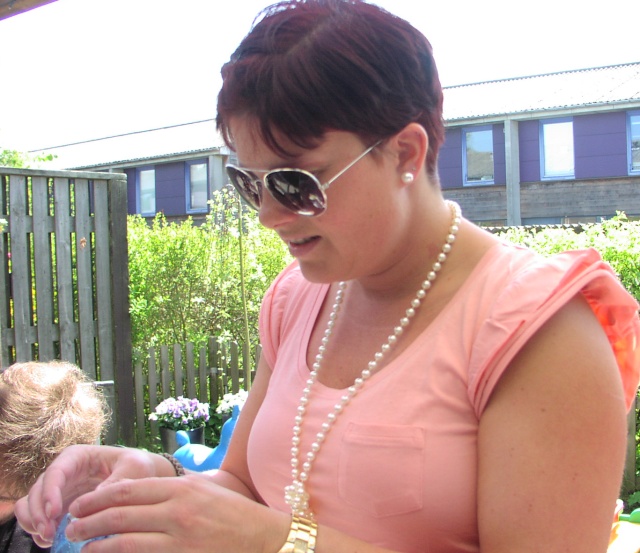 I just use a few M8 screws and nuts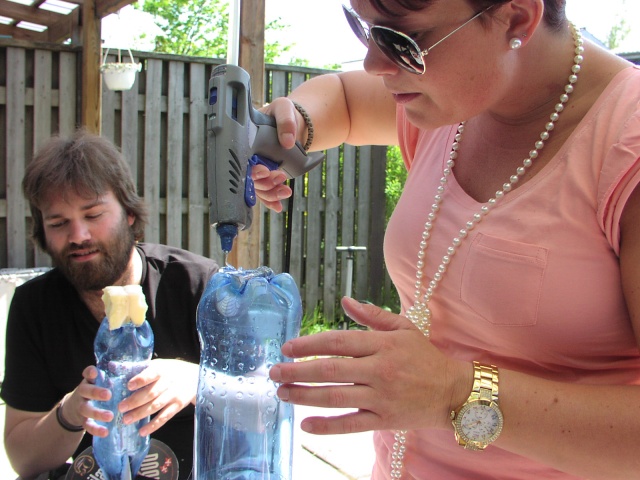 And use plenty of heatmelt glue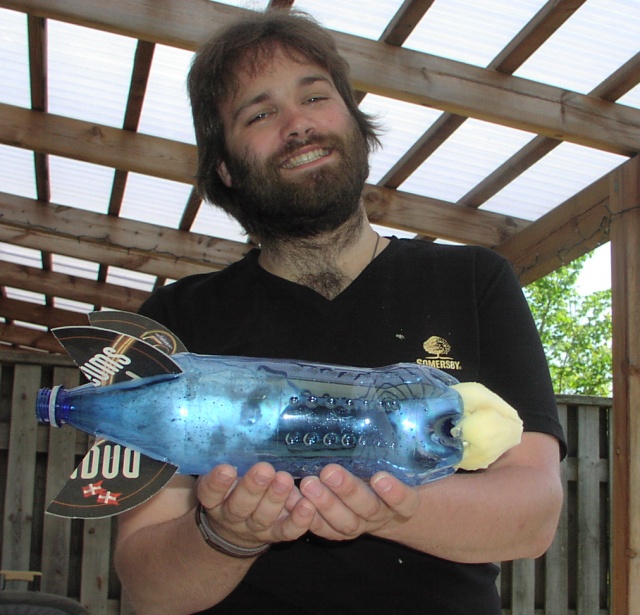 Rasmus : my first rocket ! see the nice soft tip, it will land nice and safe, at least that is the idea.
-----------
Pictures from our first flight day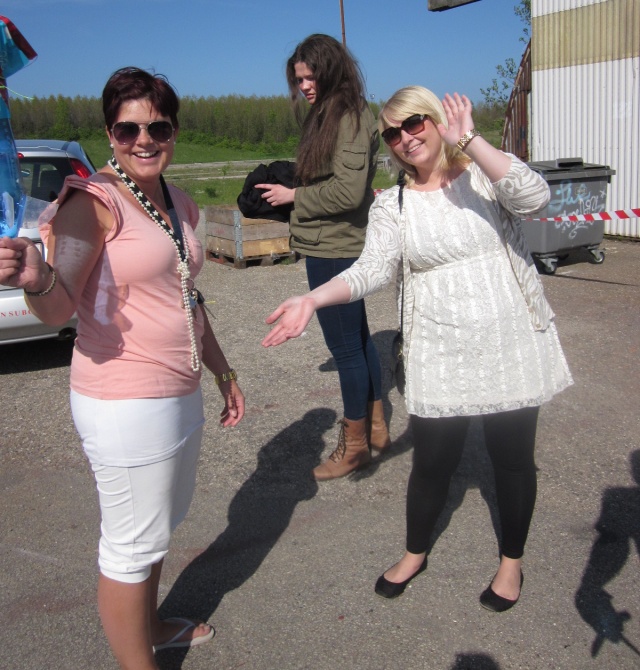 Just arrived at the rocket test site, now we are ready. Good catch of the rocket in hand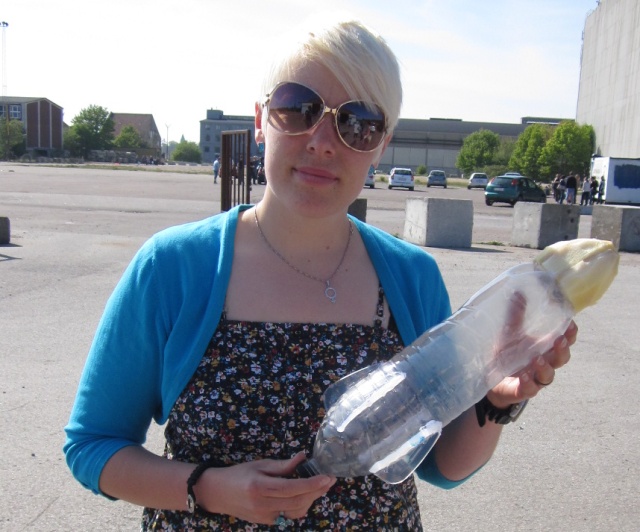 This one boys ! is a 2 liter monster rocket, wait and see

Making and flying water rockets is fun and safe for even small kids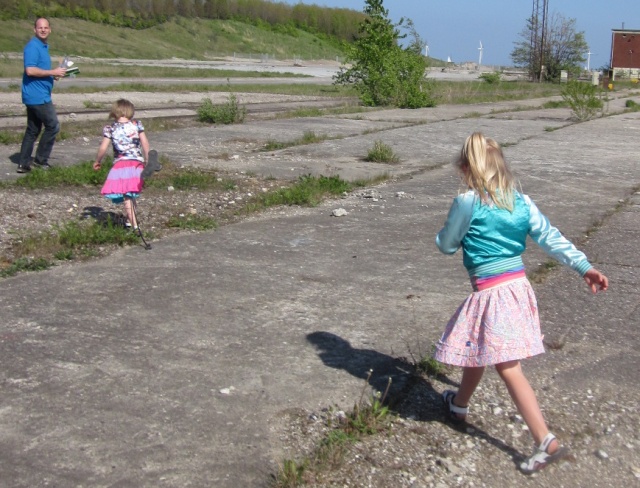 Come on, we havent got all day.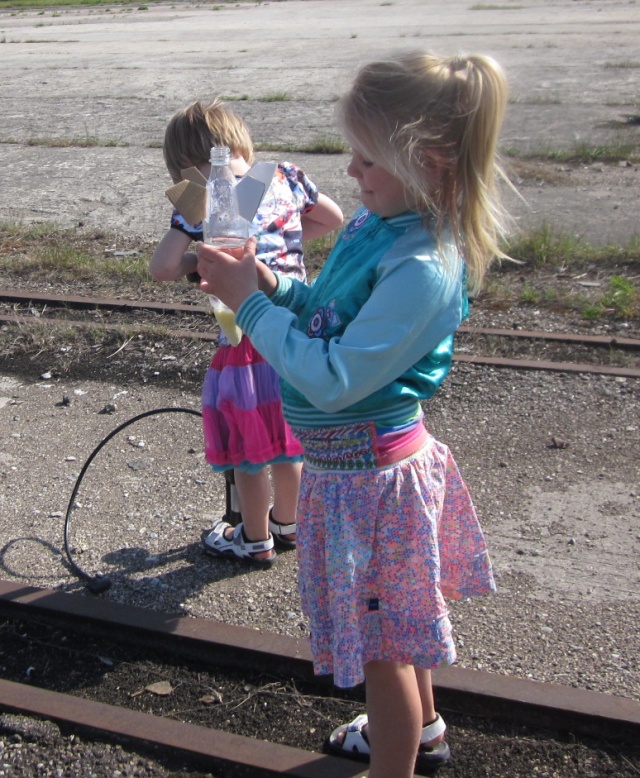 Little sister perform final check on compression and energizer tool,
while big sister confirm water level is about 50% and ready for launch.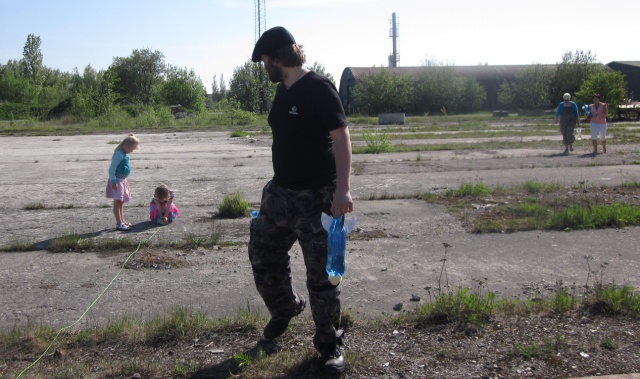 Great girls hold the release string, we are about to play.
-----------
pictures and a few videos from flights here:
http://www.vimeo.com/23421748
---------
version with fall off top and parashute inside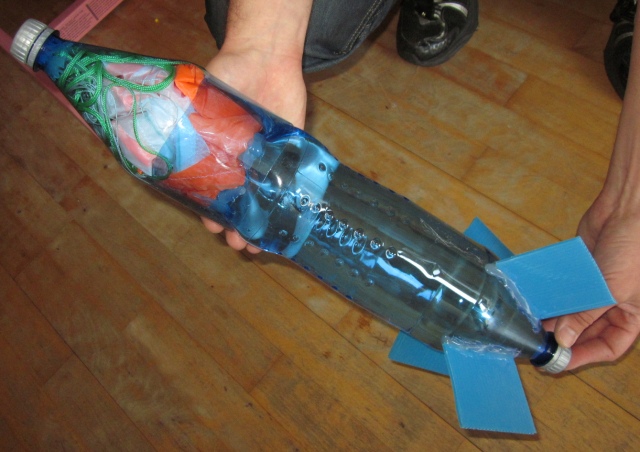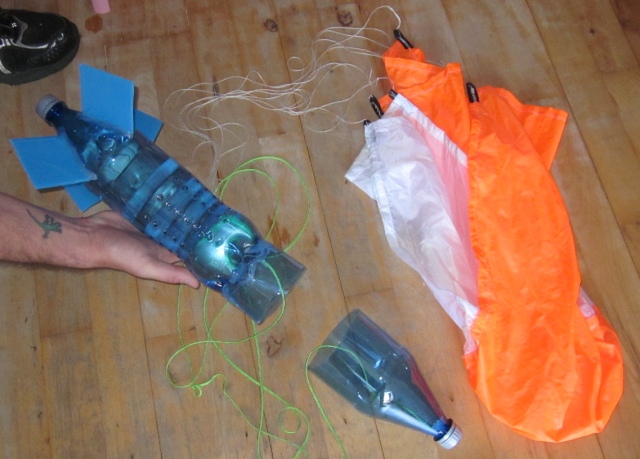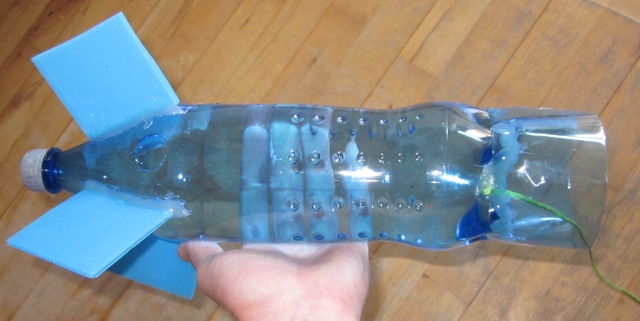 THIS DESIGN DO NOT WORK AT ALL !!!
TOP WILL NOT FALL OFF, BOTH PARTS WILL STAY TOGETHER AND SHUTE WILL NOT BE RELEASED
---------
version with RC radio controlled servo release and spring push out parashute

This version works all the time, and is alot of fun to fly fly and reuse all day long,
made june 13 2011 together with Nikolaj. DZL.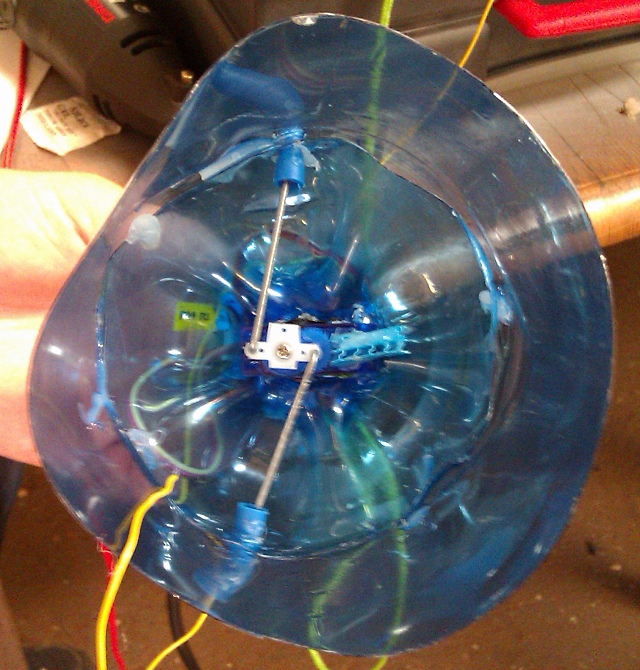 When servo rotate, the two metal rods go in-wards, and outside holders are released, here in released position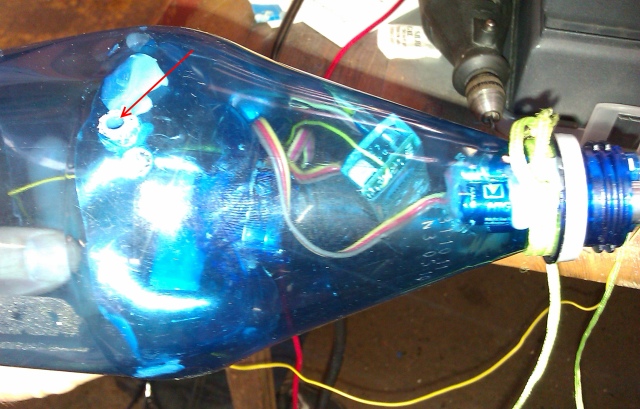 metal rod come out of this hole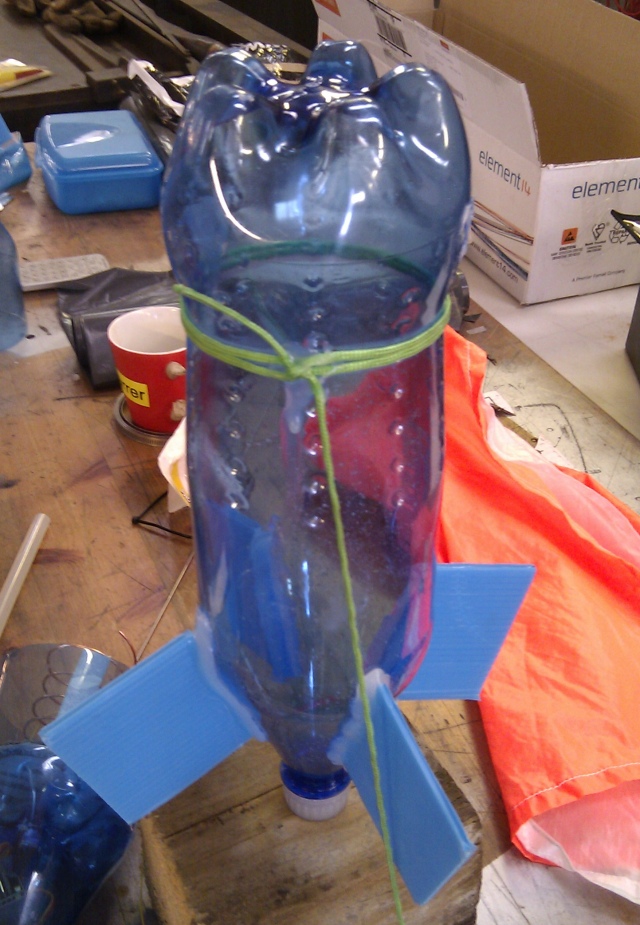 No fancy ways here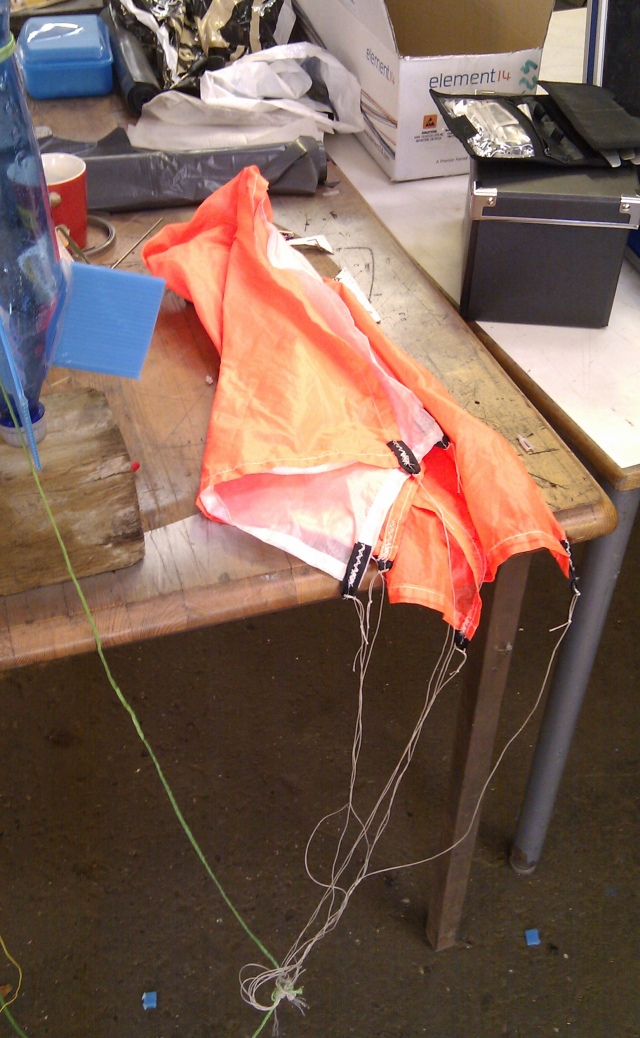 parachute cross type, wires are a bit of a pain, but we did not really see them tangled.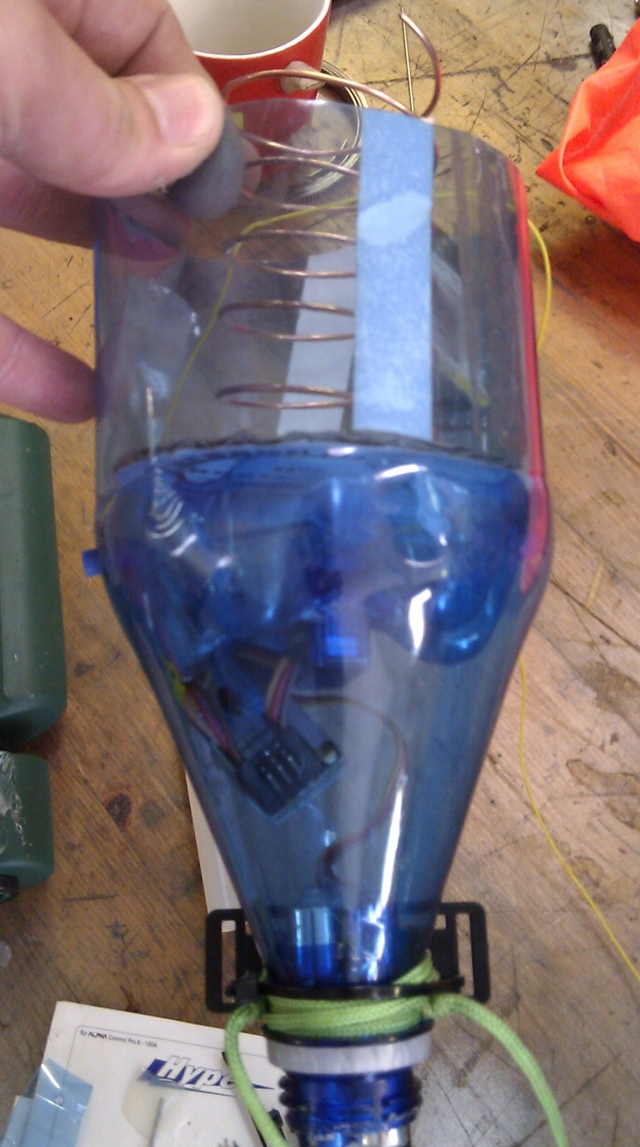 on top of the sero is a piece of cardboard, and a large spring to push out the shute.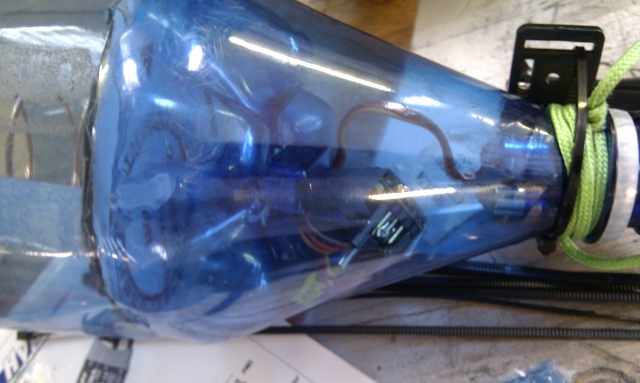 a normal 35Mhz RC receiver is all we wanted to waste on this dumb simple project.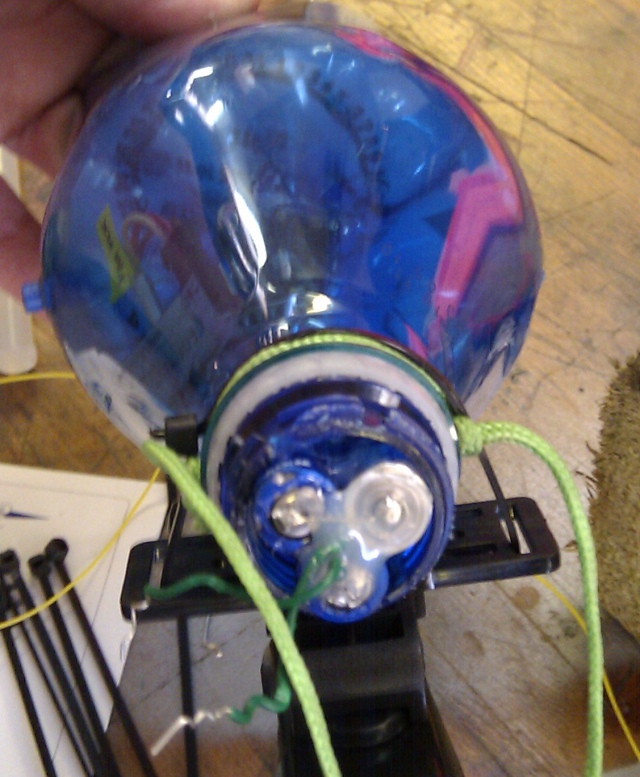 3 x AAA size alcaline cells, is perfect for power, note the on/off switch is just two wires to wrap a bit, here in off setting.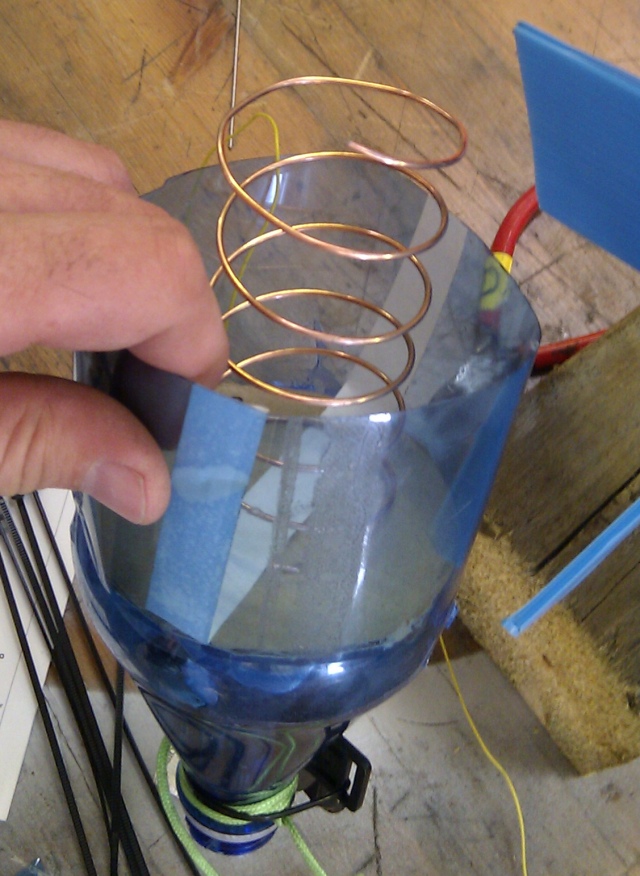 even the spring is homemade, welding wire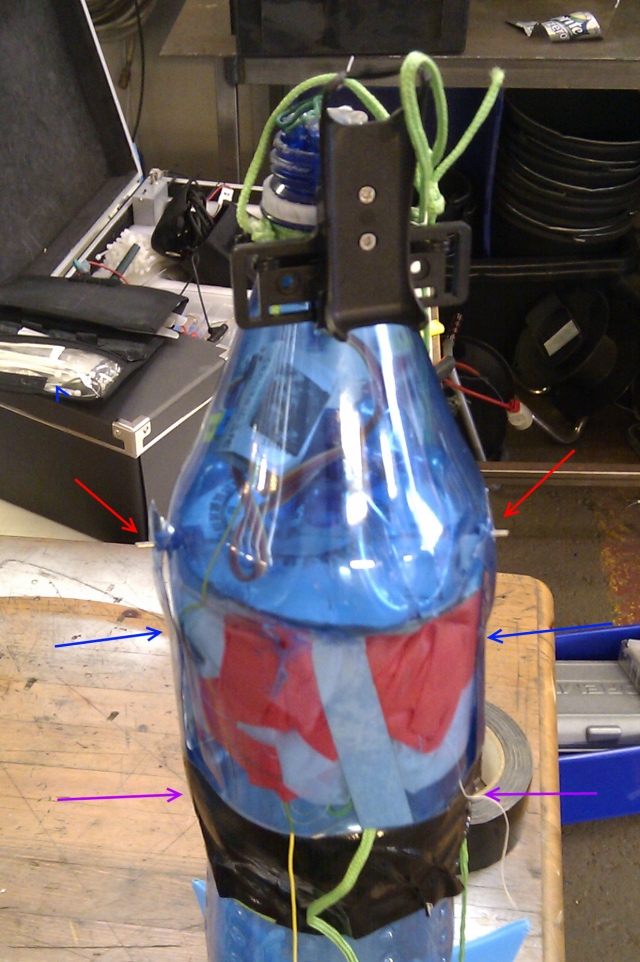 RED : the metal rod in hold position
BLUE : plastic with little hole for the rod
PURPLE : the plastic pieces are simply taped to the engine part of the rocket.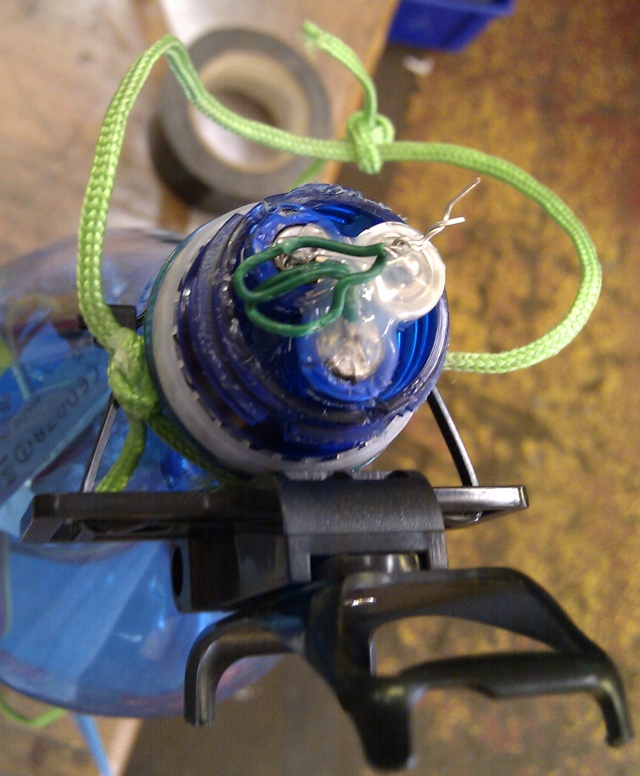 Power on, now we are ready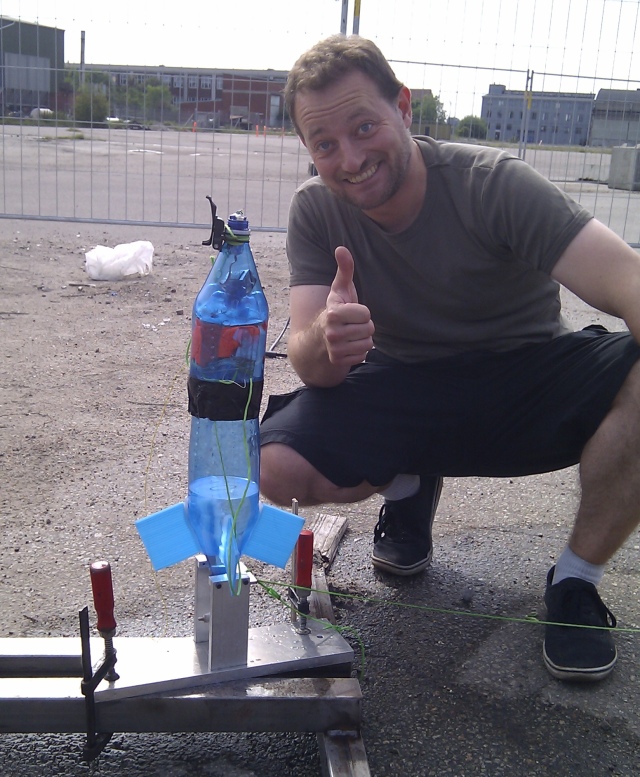 Nikolaj says ready for camera to be mounted...
videos from flight ONBOARD CAM:
http://www.vimeo.com/25038064
videos from SAME flight ground cam:
http://www.vimeo.com/25036524
Water rocket, radio controlled shute release
http://www.vimeo.com/25340452
hi-speed water rockets takeoff
http://www.vimeo.com/25189792
Water rocket 300km/t take off
http://www.vimeo.com/25340307
From our hispeed videos and various tests, here are some data:
Take off speed at 2meters burnout = 83 meters pr sec = 300 km/hr
Time to reach 2 meters burnout = 0.06 sec
Acceleration: 110 to 140 G-force
Static thrust: 30-40 kg
weight of empty 1.5 L bottle: 42gr nothing added to it
Water fill ratio: 1/3 to 1/4
Air pressure used for our flights : 5-10 bars
max working pressure of soda bottles 10-20 bars
Burst pressure 40-60 bars
Release difficult with my launcher type at pressure over 10 bars
O-ring water tight issues at over 10 bars, maybe use two o-rings, and better fit.
---------
Latest version launcher.
New and bigger and better o-rings !
DONE ! now stable and tight to at least 11 bars, but release gets difficult to pull out at 8-10 bars..
pictures soon.