Good value

Noise tolerance at power wire

-101dBm/2uV

30.3kHz

27.2kHz

23.0kHz

MZK-Micro6uP
6
300
9

PPM

-110dBm/0.7uV
30mVpp for 50% jamming
879kHz !!
warning !!
16.2kHz

-103dBm/1.6uV

11.1kHz

9.9kHz

MZK-Octava
HC50 normal
8
540
10

PPM

-110dBm/0.7uV
113mVpp for 50% jamming
77.3kHz !!
warning !!
21.1kHz

-103dBm/1.6uV

MZK-Pico8uP
HC50 normal
8
340
12

PPM

-110dBm/0.7uV
51mVpp for 50% jamming
1217kHz !!
warning !!
18.6kHz

-102dBm/1.7uV

29.9kHz

20.8kHz

MZK-Sexta
HC50 normal
6
450
10
PPM
-108dBm/0.8uV
99mVpp for 50% jamming
51.8kHz !!
warning !!
19.2kHz
HC50 normal

6(8)

120

8,5

PPM

-106dBm/1.1uV

650mVpp for 50% jamming

20.3kHz

18.0kHz

HC50 normal

6

??

14(10)

PPM

-105dBm/1.2uV

248mVpp for 50% jamming

2000kHz !!
warning !!
700kHz !!
warning !!
Good value

Noise tolerance at power wire

Hyperion HP-DSP*6FS
HC50 normal
6
?
14(10)
PPM
-107dBm/1uV
97mVpp for 50% jamming
44.2kHz !!
warning !!
18.1kHz
Hyperion HP-DSP*8FS
HC50 normal
8
?
14(10)
PPM
-109dBm/0.8uV
97mVpp for 50% jamming
43.0kHz !!
warning !!
23.5kHz

-74dBm/44uV and 84dBm/14uV

MultiplexRX12
DS IPD
HC50
MPX DS
12
900
49(35)
PPM
-111dBm/0.6uV
18mVpp for 50% jamming
20.0kHz
17.0kHz
MultiplexRX9
DS IPD
HC50
MPX DS
9
600
36(22)
PPM
-115dBm/0.4uV
32mVpp for 50% jamming
26.9kHz
17.9kHz
MultiplexRX9
synth DS IPD
none
9
995
37(27)
PPM
-108dBm/0.8uV
Total tolerant see txt !!
18.9kHz
16.9kHz

650mVpp

5000mVpp for minor jamming

Good value

Noise tolerance at power wire

-95dBm/3.9uV

27.4kHz

17.8kHz

Good value

Noise tolerance at power wire

-108dBm/0.8uV

-104dBm/1.4uV
-105dBm/1.2uV

103mV
60mV

28.8kHz
400kHz

22.5kHz
163kHz

-88dBm/8.9uV

29.2kHz

-102dBm/1.7uV

26.8kHz

20.5kHz

Corona RD820

HC50 DS

8

110kr

10.1

PPM

-106dBm/1.1uV
700mVpp for 50% jamming

242kHz!! warning !!

19.2kHz

Corona RP8D1

none

8

?

11.1(9.8)

PPM

-116dBm/0.3uV
super tolerant

20.0kHz

18.0kHz

E Sky EK2-0420

HC50
normal

7

100kr

15(11)

PPM

-118dBm/0.3uV
9Vpp for 50% jamming

2MHz!! warning !!

21kHz

MKS PRO-RX8
HC50 normal
8
?
9.7
PPM
-103dBm/1.6uV
900mVpp
22kHz
18kHz
Art Tech ATRXD01
HC50 DS
6
100kr
21(16)
PPM
-94dBm/4.5uV
2200mVpp
21.1kHz
15.7kHz
Good value

Noise tolerance at power wire
(Back to my little RC main page)
Explanations:
Good Value:

Best buy, best performance or good performance at low price, (sorry no receivers win on BOTH performance and low price at the same time, at the moment)

Good performance, but some thing perform better or are cheaper.


Average performance at average price,


Bad or low performance, or too expensive compared to the performance,
some bad performance will generate questions and problems when used in wrong types of planes,
note: some bad performers are made like this on purpose to save weight, to be used on special indoor planes,
so they actually perform good to what they are designed to - to be light weight, not to be used outside and not to be used with other transmitters near by.
Choose the right reciever to the right usage, that is your goal, no type will perform perfect on all criterias at the same time.
The Main 6 performance criterias are:
Super leight weight - Super narrow channel - Super sensitive long range - Handle strong radio signals - Cheap - Noise tolerant at power line.
You want all 6 at the same time, but i'm sorry that is impossible, so choose well.
Crystal type:
none is when the receiver uses an internal PLL synthesiser to generate the first osc frequency, so you don't need a crystal -
benefit: you can change the frequency at no extra cost, you get all channels for free.
HS50 normal the HS50 is the housing of the crystal, thick pins that fits into a socket, normal means single conversion standard crystals
DS double super, means the frequency of the crystal is special, you must use original DS crystals that match the brand of the receiver.
MPX DS is Multiplex double super, they use their own special filter frequencies, so they are NOT compatible with other DS types from other brands.
Number
of Servo:
not important, but a good idea is to have at least enough servo plugs avail for the model type you need right now,
and maybe also for your next one. old graupner receivers named each servo direction for a channel, so on a 12 channel receiver you can connect 6 servos.
Today it is most common to name each servo plug for a channel, in real life they are just different timed pulses received on the same radio frequency.
ch one send first, and ch two send, and so on. if you need to know more about this, use google, search for RC PPM signal timing or look here: http://users.belgacom.net/TX2TX/tx2tx/english/tx2txgb1.htm

Price DKR:
for some price is not an issue, but for many also an interesting parameter to compare, in Danish Kroner divide by 7.5 to get the Euro value.

Weight gram:
with case (without case) if it makes sense, some receivers comes without a case, in this case you will see only one weight number.
On small indoor electric planes weight is in some cases the most important parameter, it is clear that designing a super low weight receiver
will lack on some performance parameters, like noise filtering and gain reduction systems, and channel width, in such case, use extra care when selection the right type,
and use it after the specifications, not outside, and not far away and not together with 5 other planes in the air.

Mode:
PPM is the most common used modulation standard (Pulse Periode Modulation) it can also be digital PCM or SPCM or PCM1024.
All PPM systems are compatible, but be careful with any digital PCM mode, they are normally only one brand compatible

RF sensitivity dBm/uV:
both represented in dBm and in voltage, better sensitivity means a lower input signal was needed for 50% signal to noise ratio (10dB SINAD)
a -110dBm receiver is 6dB better than a -104dBm type, for each 6dB better sensitivity you will get double the range -
if you don't have any other factors like noise on the power supply line. If you have a receiver with less than -90dBm sensitivity
you will have a 500-800 meter range with most transmitters, this will give flips and range problems..
suggestions: always look for at least -100dBm if you fly outside.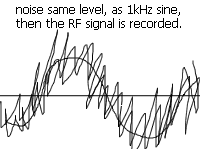 RF signal generator adjusted at centre frequency with best sensitivity, then signal strength is decreased until 50% signal/noise is seen on scope.
This is easy to re-produce and to see on any scope, accuracy from day to day measurements +/- 2dB.
Else I would need access to a real signal to noise ratio meter. forget it, not worth the money for this equipment.

Noise tolerance at power wire
the most important parameter in electric planes, but sometimes also in gasoline planes if you get noise from ignition systems,
or even (digital) servos can inject unwanted noise into the receiver power line.
Higher value is better, this is the recorded level where I got 50% signal to noise ratio at -90dBm RF input.
I have some general levels from problematic real life planes, then I measured the receivers and changed to better,
so I know if they can only handle 70-100mVpp of 455kHz injected into the +5V line, you will get flips and range problems on many electric planes.
channel width at –50dBm
the channel width is measured to get the absolutely most wide result.
not like the most common way at -3dB at each side of the filter.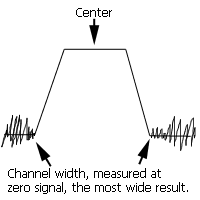 The reason I do it this way is I want to find the good and the bad receivers, not to pass them all as ok if they are really not.
-50dBm is chosen as the most strong signal, I have made a few tests and found this level at 3-6 meters away from transmitters,
so it can and will happen in real life. If the width is much wider at -50dBm compared to the -70dBm width, we have either a bad filter
or a bad / not implemented AGC (automatic gain control) so the first stage will be blocked or over drive of the filter.
We all know the channel spacing we use on the 35MHz band is 10kHz,
and the filter width I measure is often 20 to 30kHz, so you will be able to get noise or jammed if your pals are one or two channels from your channel,
and if they are closer to your plane, than you are. This limitation is normal and should be considered by all users.

channel width at –70dBm
signal input level lowered 20dB, then we see the width again, at this rather weak signal level it is impossible to overdrive input gain stages.
Wider = bigger number, is worse result.
-------------------------------------------------------------
All receivers are either my own, or borrowed from several RC shops, or donated to me for the time it take to do all this work.
some was borrowed from private persons, in any case thanks to all persons who helped me.
Measure results with alarming bad results are marked with BOLD.
Use all results with care, you can not say one is better than the other, without also comparing the usage of it.
I am still open for new receivers, that are not on my list,
contact me to find out how to help me and the rest of the world. The best way to get your receivers on this list it to simply send it to me for keeps,
Then I will measure it, and test it, and donate it for beginners and club projects in my local RC plane club.
WHY I did this list ???
I was tired of all sorts of un-documented results written on many RC forums,
when some ask: what kind of RX should I choose for plane X ?
then he will get 10 different results, and often many says, RX Y is bad, I just had a crash with one, don't use it, you name it.
THIS list is the cold technical facts, and can be re-made all over the world by technical freaks with access to:
RF signal generator, sine wave generator, scope, 5V power supply.
The whole idea of the testing is to show the differences.
I or anyone else can easily setup some tests that will show them all to be perfect :-) but boring and not useful at all.
This is why I push them to the limit and do strange stuff to show the technical differences.
We all know many other factors play in the real life radio control (good/bad) performance:
bad noisy motor regulators, bad RX batteries, bad servo power decoupling, low TX power, frequency miss-alignment,
bad crystals, wrong crystals, antenna routing, rx mounted too close to motor or regulator or other electronics,
atmospheric interference, radio noise from military and other broadcast can travel on a bad day 2-8000 km !,
nulling/doubling phasing due to reflections on ground and other things nearby. Even servos can generate power noise directly into the RX,
this is worse on some digital types.
Yours: Thomas Scherrer OZ2CPU, This version last updated: November the 10th 2008